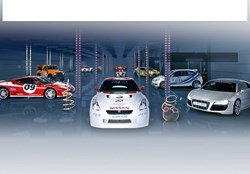 Enhanced packages include tickets to the Friday of the F1™ or MotoGP™ British Grands Prix.
England (PRWEB UK) 14 November 2013
Silverstone's Thrill (£79) and Experience (£149) Super Choice Anytime vouchers give recipients the option to choose from some of the most iconic track-prepared supercars on the planet, and then drive them around sections of the legendary Grand Prix Circuit. The range of incredible vehicles on offer includes the Ferrari 360 Modena F1™, Aston Martin V8 Vantage, Lotus Evora, Lotus Exige S, Nissan GT-R and Mercedes C63 AMG, plus the Formula Silverstone Single Seater and Ford Fiesta ST Rally Car.
For an upgrade of just £20, the Thrill Super Choice and Experience Super Choice Anytime vouchers can be converted into a Bundle, combining the gift with a variety of additional extras, ranging from a ticket to the Friday of the 2014 Formula 1 British Grand Prix or two Friday tickets to the 2014 MotoGP British Grand Prix, to a photo CD of the driving experience, or a limited edition Silverstone watch.
In addition to these fantastic driving packages, Silverstone has a whole range of exhilarating experiences to suit any budget this Christmas, including:

A Tour of Silverstone, at the special price of £20 this Christmas, takes visitors behind the scenes at the famous Circuit. The two-hour interactive tour is a must for every motor sport fan, telling the story of the Home of British Motor Racing, with visits to Race Control, on-site workshops and the Grand Prix track itself, culminating in the opportunity to stand on the top step of the British Grand Prix podium.
New for 2013, the Silverstone Wall of Fame, from £59, enables fans to be a part of the circuit's illustrious history. Personalised bricks, with your own name and message, will take pride of place alongside Silverstone motor sport legends past and present, on a specially-built wall being constructed on the old Grand Prix Circuit.
The 4x4 Extreme Experience, at the special price of £69 during the holiday period, provides some all-terrain fun in the seriously impressive Land Rover Defender. Combining steep gradients, death-defying drops and deep water, the purpose-built course demands precision handling and tenacity, and is not an experience for the faint hearted.
The Ferrari Experience, from £199, is Silverstone's most popular driving activity. It's a chance to drive one of the most revered and impressive supercars in the world: the Ferrari 360 Modena F1™.
For those who want to guarantee their spot at the UK's premier motor sport events, tickets are a perfect gift to make Christmas even more special. The 2014 Formula 1 (04 – 06 July) and MotoGP (29 – 31 August*) British Grands Prix are on sale at special advance ticket prices – starting from £15pp for MotoGP and £65pp for F1 – just in time for Christmas.
For further information on the full range of Silverstone's Christmas gifts this season, click here. http://www.silverstone.co.uk/experiences/christmas-inspiration/