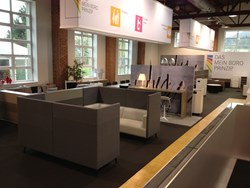 Wini is today on of the top 100 medium sized companies in Germany.
Clerkenwell, London (PRWEB UK) 19 November 2013
Connection is partnering with Wini, one of Germany's 'home grown' systems office furniture manufacturers to bring Connection's products to market in Germany and Switzerland, with additional opportunities in the Dutch market where they have their own company.
Wini supply their own and other 'bought in' products such as seating, lighting, etc. to the market through a network of dedicated dealers, and through their own direct marketing efforts directed at the German corporate market.
Wini is a third generation business, now just over 100 years old, started by the Niemeier family, and after the war taken over by Georg Schmidt, the father of the current MD Carolina Schmidt Karsch, and has a turnover of approximately £40 million, placed in the mid to upper market sectors. Manufacturing and head office functions are in Coppenbruegge, south of Hannover in North Germany, and the company has its own showrooms in Hamburg, Berlin, Düsseldorf, Frankfurt, Munich, and Stuttgart, as well as the Netherlands.
The Wini Haus Messe (company exhibition) took place last week, and was held at their main showrooms in Coppenbruegge. Their dealers were invited to attend over a period of three days, to look at all the latest product innovations and developments, and to meet with the Wini team. The Haus Messe is held during alternate years with the Orgatec show in Cologne, and is seen by Wini as the most important.
Hive and Thynk took pride of place at the show, and were well received by the Wini team and their clients alike, and feature in the new products section on the Wini website. Thomas Bruehl, Sales and Marketing Director wrote this morning to say thanks, and to confirm that they believe the event was very successful. This was echoed by Dirk Hölscher, who heads up product development and product management for the company.
Connection's role going forward will be to support the Wini team in the field, theirs will be to deliver opportunities to Connection for projects and day-to-day business for our products, with focus on the 3rd Space - as we grow the relationship and business with them, and we will see other products pulled into the marketing mix.