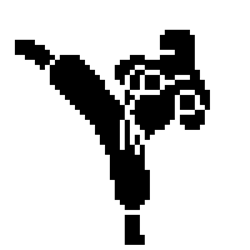 Retrogamers are excited about the newly-announced Ninja Boxing Calculator from LCD Ninja.
(PRWEB) November 15, 2013
Featuring an impersonator, what's being called the "Morgan Freeman Video" on Twitter has been popular within the UK #retrogaming community. From a few Twitter followers to thousands in 60 days, Ninja Boxing Calculator has captured the imagination of UK #retrogamers.
Ninja Boxing Calculator is a retro-styled combination of handheld fighting game and fully functional calculator, the first of its kind in the world! Ninja Boxing Calculator will be available in December 2013 for Mac, PC and iPhone. LCD Ninja has plans to manufacture a real hand-held Ninja Boxing Calculator device in 2014.
LCD Ninja wanted to create a game that was a blast from the past. They were inspired by the 32 year-old Casio BG-15 Boxing Calculator. The BG-15 is now a rare collector's item and is unique in the world of both handheld games and calculators. LCD Ninja has decided that it's time to give Casio some healthy competition with their Ninja Boxing Calculator.
Announced at The Retro Game Experience in Holland in September 2013, Ninja Boxing Calculator was a hit with retrogamers falling in love with the iPhone version of the game. Within the 60 days after its first public showing, @LCDNinja has gained thousands of followers and fans on Twitter. LCD Ninja is humbled and excited to have struck such a positive chord within the Retrogaming community.
Back in the 1980's, video game developers used magazines to get the word out about their game releases. Following the old trend, LCD Ninja is publishing retro-style Ninja Boxing Calculator posters on the back covers of Retrogamer Magazine (UK) and the first issue of Retro Magazine (USA) in December. This advertising move inspired by the company's simple mission statement: "100% Retro."
Ninja Boxing Calculator will be released in December 2013 for Mac, PC and iPhone. Plans to manufacture a real hand-held version of the device are underway and expected in 2014.
Press Kit: http://www.lcdninja.com/press-kit/
Morgan Freeman promo video: https://vimeo.com/77188678
LCD Ninja official website: http://www.LCDninja.com/
The story behind Ninja Boxing Calculator: http://www.lcdninja.com/ninjaboxing/
Retro advertising in December: http://www.lcdninja.com/ninja-boxing-calculator-available-mid-dec/
Ninja Boxing Calculator December Release: http://www.lcdninja.com/ninja-boxing-calculator-available-mid-dec/
LCD Ninja Pty. Ltd. is a handheld gaming startup based in Brisbane, Australia and Amsterdam, Netherlands. We strive to deliver #retrogamers a 100% retro experience in all our handheld games. LCD Ninja games will be available for Mac, PC, iPhone, iPad platforms from December 2013. Real versions of LCD Ninja handheld games are planned for 2014 manufacture.
###
Richard Pearson
LCD Ninja
Amsterdam