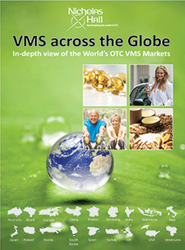 Sales growth of +3.7% was solid, but marked a slowdown on previous years.
(PRWEB UK) 14 November 2013
The Nicholas Hall's Reports team have just put the final touches to the most comprehensive report on the global vitamins, minerals & supplements market they've ever published. 'VMS across the Globe' is not only large (over 500 pages, many dedicated to profiling the leading 18 VMS markets in great detail) but is packed with analysis and insight – not to mention company profiles, brand case studies, a regulations overview and chapter on the impact of scientific studies on VMS sales.
About those sales: VMS is the largest major OTC category by a significant margin (with 30% of global sales), but posted comparatively low growth in the year to mid-2013 according to DB6 Global OTC Database. Sales growth of +3.7% was solid, but marked a slowdown on previous years (CAGR +4.9% 2008-12). Several categories proved dynamic (including probiotics, hair & beauty supplements and certain single vitamins and herbal & natural supplements), but others disappointed (including OTC tonic drinks, herbal memory & brain health and herbal menopause supplements).
The picture across different markets around the world could hardly be more diverse: fast-growing emerging markets (like Brazil, China, India, Russia) and certain relatively-dynamic developed nations (Australia, USA) contrast with static and declining markets (like France, Germany, Japan, UK) and several others that are just ticking along steadily.
Inside the report the analysts take a close look at the reasons for the performance of individual categories and brands, in countries spanning the globe. For more information and to receive sample pages and a detailed table of contents, please email Valerie Tsang, Group Director of Marketing & Sales, at val.tsang(at)NicholasHall(dot)com or visit the company's website at NicholasHall.com. The report is available as a full report or as individual chapters.
About Nicholas Hall Reports:
Our reports draw on the in-house expertise of our specialist analysts and researchers, on the-ground knowledge from our Network Partners, and Nicholas Hall's unique insights, plus the latest sales data from our DB6 global OTC database. Each title provides in-depth analysis, identifies major trends and developments, highlights consumer preferences and forecasts future trends.
View Nicholas Hall's Reports Library: http://www.nicholashall.com/nicholas-hall-reports/reports/
Contact: Valerie Tsang, Group Director of Marketing & Sales
val.tsang(at)NicholasHall(dot)com
Company Website: http://www.NicholasHall.com