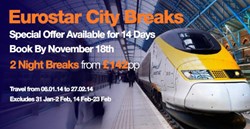 (PRWEB UK) 13 November 2013
Short breaks specialist Superbreak have launched an exclusive 14 day Eurostar promotion to offer customers more ways to enjoy the best of continental Europe for less this New Year. Available for a limited time only, the offer will run until 18 November 2013 for trips between 6 January and 27 February 2014 (bank holiday and half term excluded).
This winter promotion will allow Superbreak customers to enjoy lower prices on Eurostar breaks after the festive period. A two night Paris Eurostar break from St Pancras International to Paris Gare Du Nord starts from £115pp with a free Seine cruise included for extra savings. Travellers will also be able complete their short break package with the option of including return UK rail tickets to St Pancras International, as well as a range of sightseeing and attraction tickets.
Last year, thousands of passengers travelled with Superbreak on a Eurostar break, with Paris and Bruges being the most popular destinations. The strong relationship Superbreak have developed with Eurostar allows them to offer these great value short breaks to Europe, building their reputation as a leading hotel and transport provider.
Chris Hagan, Superbreak's Head of Overseas, Transport and Ancillary, commented, "We are constantly looking for ways to give our customers extra savings and this fantastic Eurostar promotion does exactly that. We have worked hard to build strong relationships with our clients over the last 30 years and as a result, we can continue to offer great value overseas packages to our customers."
About Superbreak
With more than five million people visiting Superbreak.com each year, millions of couples, single travellers, families and friends rely on Superbreak to book their short break. Whether it's a Eurostar trip for a European city break, a London theatre weekend, attraction tickets for the family, or simply somewhere to rest your head for the night, Superbreak has the selection you want at a price you can afford.
With 30 years of travel experience, Superbreak has a reputation for providing excellent quality and customer service. Both ATOL and ABTA bonded for peace of mind, Superbreak is a reliable brand trusted by travel agents and customers.
About Eurostar
Eurostar is the high-speed train linking St Pancras International, Ebbsfleet International and Ashford International with Paris, Brussels, Lille, Calais, Disneyland® Paris, Avignon and the French and Swiss Alps, as well as connecting to over 100 other destinations across Europe.
Eurostar was established in 1994 as a partnership between three railway companies: SNCF, SNCB and LCR (London and Continental Railways). On 1 September 2010, Eurostar became a single, unified corporate entity owned by three shareholders: SNCF, SNCB and LCR.
The current Eurostar train was first introduced into service in 1994 carrying 750 passengers and operating at speeds of up to 300km/h. Since then, the fleet of 28 trains has carried more than 130 million passengers between London and the Continent. Following their refurbishment these trains will continue to form a core part of the Eurostar fleet.
Eurostar is a founder member of Railteam, a partnership between Europe's leading high-speed train operators that is developing simpler ways to book and travel on the fast-expanding European high-speed rail network.
Eurostar and Eurotunnel are entirely separate companies. Eurostar operates high-speed passenger trains, while Eurotunnel operates vehicle shuttle services and the Channel Tunnel itself. Eurostar is Eurotunnel's biggest customer.