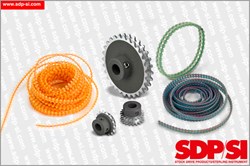 Integrated Design, Engineering and Manufacturing Under One Roof
New Hyde Park, NY (PRWEB) November 18, 2013
Sterling Instrument (AS9100 Registered Manufacturer) provides single and double core posi-drive belts and sprockets for applications that require accurate positioning. The no-slip design offers several distinct advantages. No flanges are required, which saves space, and also prevents the trapping of air between the belt and the flanges, creating a much quieter operation. The system also operates with no backlash, which is essential for applications that require no lost motion. 3D printers can benefit from this advantage, since more precise positioning will result in better quality parts.
Yet another advantage of the posi-drive system is that the single core belts and sprockets can be used in applications where the shafts are oriented at an angle with one another. The central core, made of either aramid fiber or stainless steel, can twist in such a way that the pins still stay in perfect mesh with the sprocket. This allows the shafts on either sprocket to be oriented at a full 90 degree angle without sacrificing belt performance.
The belts are made of molded polyurethane, and require no lubrication. They have excellent chemical and abrasion resistance, making them suitable for medical and food processing applications. They are sold either by pin count or by the foot up to 100 feet.
SDP/SI is a leading manufacturer of small mechanical components, servicing a wide variety of aerospace, medical and commercial industries for over 50 years. Quotes, online orders, and 3D CAD Models are available on our updated estore at http://www.sdp-si.com/estore. SDP/SI offers over 130,000 power transmission components, including gears, belt and chain drives, shafts, shaft accessories, bearings, couplings, universal joints, vibration mounts, miscellaneous components, hardware, gearheads and speed reducers, right angle drives, brakes and clutches, motors and gearmotors. For additional information about SDP/SI, please visit http://www.sdp-si.com. Stock Drive Products / Sterling Instrument (SDP/SI), 2101 Jericho Turnpike, P.O. Box 5416, New Hyde Park, NY 11042-5416. Phone: 1-800-819-8900 | 516-328-3300 • Fax: 516-326-8827.
For additional details, go to: http://sdp-si.com/product-announcements/posi-drive-belts.htm.
Note to Editor: An electronic version of this release including a 300 dpi .jpg image at 3" wide can be downloaded at: http://sdp-si.com/product-announcements/posi-drive-belts.htm.
SDP