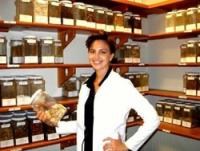 I am passionate about educating my patients to provide them with the tools for long lasting health and wellness.
Alexandria, VA (PRWEB) November 15, 2013
Skyline Wellness Center is delighted to announce the addition of acupuncturist Dr. Ashley Will to their group of practitioners. Dr. Will is a Doctor of Oriental Medicine and a nationally board certified licensed acupuncturist and herbalist. She uses a combination of acupuncture, herbal and nutritional therapies to treat any number of conditions.
"I'm so excited to join Skyline Wellness Center and to be a part of such a comprehensive care model that works together to help patients reach their wellness goals. Within this model I offer acupuncture, herbal and nutritional therapies. Acupuncture is a powerful modality that can effectively treat a variety of health conditions safely, naturally and free from side effects. Each patient is seen as a unique individual with the treatment focused on getting to the root of the problem versus just masking the symptoms. I am passionate about educating my patients to provide them with the tools for long lasting health and wellness. To find out how acupuncture may help you, feel free to contact me anytime via email."
Acupuncture is a form of Chinese Medicine that has been used successfully for over 3,000 years. It involves the painless insertion of extremely thin needles at strategic acupuncture points along the body to activate the body's own healing responses. Other treatment modalities in Chinese Medicine include nutrition and herbal therapy, cupping, electro-stimulation, moxibustion, tuina and guasha. Acupuncture is recommended for a myriad of health conditions by both the World Health Organization and National Institutes of Health, and has recently been successfully utilized in the U.S. Military to treat conditions like pain and PTSD.
"We could not be more excited about Dr. Will's decision to join forces with Skyline Wellness Center. She already has a very strong and growing practice. We cannot wait for our patients to meet her and see how she can help in their health care journey. She will provide Skyline Wellness Center a very strong foundation on oriental medicine and acupuncture, among other modalities. Her approach is based on high quality service, relevant education and superior care. The same focus as our clinic."
Skyline Wellness Center is an integrated healthcare clinic that has been operating in Alexandria since 2008 and offers integrated health care services including chiropractic, massage therapy, medicine, physical therapy, acupuncture, physiotherapy, nutrition, sports medicine and health care education.
You can email Dr. Will at awill(at)skylinewellnesscenter(dot)com. Visit Skyline Wellness Center's website at http://www.skylinewellnesscenter.com for more information or to book appointments.