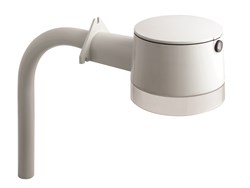 Northvale, NJ (PRWEB) November 14, 2013
RAB Lighting Inc. introduces the Dusk to Dawn 26W LED Yardblaster. With enough light to hit the broad side of a barn, YBLED is made to replace 175W mercury vapor traditional fixtures. With its impressive lumen output, the YBLED blasts the competition out of the yard. The Yardblaster's outstanding coverage and widespread light distribution is perfect for large yards, barns, docks, entrances, porches and driveways.
YBLED is available in both wall and pole mount models making it easy to install in new and retrofit applications. This fixture delivers the efficiency you want in an LED with up to 175 WV equivalency and a whopping 96 lm/W. 26 Watts of LED generates a stunning 2689 lumen output, head and shoulders above the competition.
The Yardblaster has an integrated dusk to dawn photocell for peace-of-mind security, switch free convenience and industry-leading energy efficiency. The YBLED will stand up to tough environments in a big way, while keeping a small profile at under 6" in height. With its vandal resistant polycarbonate lens, rugged die-cast aluminum housing and durable weather resilient polyester powder coat finish, the YBLED is designed for durability.
100,000+ hour LED lifespan based on IES LM-80 results and TM-21 calculations, dramatically reduces maintenance and re-lamping costs. At 10 hours average daily use, RAB LEDs are rated to last 27 years. YBLED is available in cool, neutral and warm color temperatures to match your landscaping needs. All available in stock and ready to ship.
But wait, there's more. Like all RAB LED fixtures, YBLED comes with RAB's No Compromise Five-year Warranty. We warranty light output, color stability, driver performance and paint finish put into simple terms that are easy to understand. Simple, comprehensive and valuable, the RAB LED Warranty ensures that your investment is protected.
About RAB
RAB Lighting is committed to creating high quality, affordable, well designed and energy efficient LED lighting and controls that make it easy for distributors to sell, electricians to install and end-users to save energy. Founded in 1946, RAB has a vibrantly growing infrastructure of manufacturing facilities and engineering capabilities that ensure great product design and quality. In addition to great products, RAB also provides free lighting design services to anyone who needs assistance. Feel free to reach out to us on the phone or on our website and we will do our best to help. Call (888) RAB-1000 or visit http://www.rabweb.com.