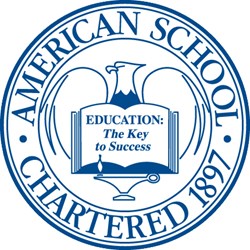 Lansing, IL (PRWEB) January 15, 2014
The American School is proud to announce the release of online exams in eight additional paper-based courses. Starting January 15, students who are enrolled in the paper-based versions of French 1, French 2, Literature 2, Literature 4, Journalism, Fundamentals of Electricity, World Geography and Clothing will have the option of taking their exams online or doing them on paper as they have before.
The release of online exams in these eight courses brings the number of paper-based courses with online exams to 43, which is well more than half the American School's curriculum. It is also an example of how the American School continues to adapt to the changing times. A correspondence-based school for much of its 117-year existence, the American School now offers students the options of doing their work in print, online or a combination of the two. The American School is committed to adding more online courses to its curriculum throughout 2014 but plans to also offer a robust curriculum of paper-based courses for years to come.
The American School is accredited by Ai and NCPSA and offers more than 80 high school courses in all. Students may enroll in the General High School or College Preparatory Program and work toward their accredited high school diploma, or they may take individual courses for credit recovery or personal enrichment.
For more information, call 866-260-7221 or visit http://www.americanschool.org.