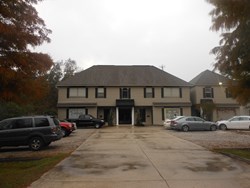 St. Tammany, LA (PRWEB) November 14, 2013
The properties, including homes, commercial properties and residential lots, are located throughout St. Tammany Parish in 28 subdivisions, including areas in and around Mandeville, Covington, Slidell, Lacombe, Abita Springs and Bush.
Bids will start as low as $1000, and all properties will be sold to the highest bidder. Bidders will be required to register with $500 in certified funds, which will be placed toward the purchase price, for each property on which they plan to bid. A 10 percent deposit is required on each purchase and closings will be scheduled within 60 days. Insurable titles will be provided on each property. Registration begins at 8:00 a.m. on the day of the auction. Bidders may also pre-register online at http://www.StTammanyAuction.com.
"This is an excellent opportunity for buyers of all means to secure a piece of property in St. Tammany Parish," notes Pat Brister, St. Tammany Parish President. "In addition, these properties will once again be a part of the economy, no longer stagnant, but back into commerce and the tax rolls, which will ultimately benefit the Parish as a whole."
"This is the first Adjudicated property auction being conducted by St. Tammany Parish in order to place these properties back in the flow of revenue," says Joey Alphonse, Associate Counsel, St. Tammany Parish Government Legal Department. "All of these properties are past the redemption period, so buyers can purchase with that peace of mind. We would like to thank Pelican Park and the Castine Center for their generous donation of the facility for this event."
David E. Gilmore, Managing Partner and National Auctioneer for Sperry Van Ness/Gilmore Auction & Realty adds, "This event will be a great opportunity to purchase real estate in St. Tammany Parish at auction prices. The timing may never be better than now."
Property information, photos, FAQ's and additional terms can be reviewed at http://www.StTammanyAuction.com or by calling SVN/Gilmore Auction at 504-468-6800.
Sperry Van Ness/Gilmore Auction & Realty is the Louisiana franchise office of Sperry Van Ness International, one of the largest and fastest growing commercial real estate brokerage firms in the industry, with more than 1000 advisors in over 150 locations in the United States. Sperry Van Ness delivers results for clients through a proven business model that provides advance marketing and technology tools. Sperry Van Ness/Gilmore Auction team members have more than 100 years of experience in planning, orchestrating and conducting successful accelerated marketing engagements throughout the United States.
Press contacts:
David E. Gilmore – David(dot)Gilmore(at)svn(dot)com
Francis J. Braud – Francis(dot)Braud(at)svn(dot)com
504-468-6800