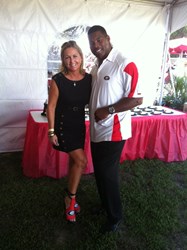 Onsole Shoes joins boom in collegiate apparel with addition of new line
West Palm Beach, Florida (PRWEB) November 15, 2013
Dominique McClain Barteet, CEO and creator of Onesole announces the addition of Collegiate clog tops to their interchangeable shoe top line to increase profitability and expand its portfolio in the explosive collegiate industry. One fourth of all goods sold through licensed sports apparel stores are college branded and increasing every year with females comprising more than half of the sales. The collegiate apparel industry sales are ranked ahead of NFL, MLB, and NASCAR this year."Onesole has the ability for the fan to wear their favorite team and support them with every step. I believe the SEC teams will be our biggest target area. The consumer can wear two teams at once if they like, but I wouldn't be caught wearing Alabama on one foot and Auburn on the other, " said Dominique McClain Barteet.
"Onesole realizes college is a lifestyle brand and fans will show their loyalty anyway they can by displaying their team on apparel to body paint. Being a longtime friend of Heisman Trophy winner, Herschel Walker, I have seen fist hand how crazy the fans are for their teams. They are the most loyal and passionate fans in the world and we offer something different to show their spirit rather than just a T-shirt," said Dominique.
About Onesole. "The Original Interchangeable Shoe"
Onesole is "The Original Interchangeable Shoe" that has over 3000 tops for the consumer to easily change the top of the shoe. The company and creator was featured on the reality television show Shark Tank receiving one of the biggest offers on the show from the investors. Onesole, an American based company, was also chosen as The Best Product Made in America on The ABC World News Tonight. Onesole licenses through CLC (The Collegiate Licensing Company), the trademark licensing affiliate of IMG College. The Onesole shoe and college tops can be purchased at various boutiques and online at http://www.onesole.com and http://www.onesolestore.com.