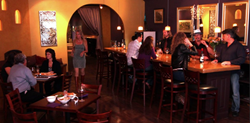 Lompoc, CA (PRWEB) November 13, 2013
Leading commercial furniture distributor, Restaurant Furniture Supply recently helped Lompoc's newest wine bars to a successful grand opening.
Located in old town district of Lompoc, D'Vine Wine Bar and Bistro is a friendly, unpretentious yet sophisticated destination for locals and visitors. Beautifully decorated with vibrant yet warm colors, you cannot help but want to sit down and just watch the new heartbeat of Lompoc do their magic. D'Vine Wine bar and Bistro has had much acclaim from their patrons since their successful grand opening. The wine bar has quickly become a favorite with the locals. In addition to their specialty wines, they offer beer, delicious gourmet tapas, pizzas, salads and other appetizers.
They have a big screen TV and a cozy sitting area to watch the games. They have live music on Thursday nights certain nights and customers have said the wine bar and bistro has a very festive, yet relaxed atmosphere. They specialize in offering wines from local wineries in Lompoc. They also serve local craft beers such as those from Figueroa Mountain Brewing Co. in Buellton.
The owners turned to Restaurant Furniture Supply for tables, chairs and bar stools because of their reputation for excellent quality at affordable prices explained sales person Chris K. For chairs, they opted to go with the Wood Ladder back Chairs in dark mahogany finish with black vinyl seats. "It's one of our most popular chairs across America," said Chris. Wood chairs really make a big difference and add a lot of class. Also, Restaurant Furniture Supply is well known for its high quality commercial furniture which can withstand heavy traffic and not become unstable or worn out for many years.
The Wood Ladder Back Chairs are currently on sale for only $56 from Restaurant Furniture Supply, which also has a matching bar stool. The chairs are available in 5 standard wood finishes. Custom finishes are also available upon request. Customers have the choice of a solid wood seat or padded seat using American made option is a padded seat. The seat is upholstered using American made foam and vinyl or fabric and can also be custom made.
For bar stools they also decided to go with the elegant and stylish Lauren Beechwood Bar Stool also in dark mahogany finish. With its artistically designed back and durable finish, the Lauren Beechwood chair added an additional element of refinement to D'Vine's which the owners appreciated. This durable wood bar stool also comes in 5 standard wood finishes and comes with the choice of a solid wood set or a padded seat made of vinyl or fabric. The wood finish and the padded seat can be custom made.
For the tables he chose they chose American made solid wood table tops in dark mahogany finish. Restaurant Furniture prides itself on making high quality, durable tables made in the USA. They chose 3 different sizes; 30 X 30, which sells for $101, 30 X 48 for $142.25 and 24" diameter which for $77. The tables come in square, round or rectangular shapes in a wide variety of sizes.
Browse Restaurant Furniture Supply's full selection of commercial grade chairs, bar stools, table tops, table bases, booths and patio furniture at http://www.restaurantfurnituresupply.com/or talk to a customer service representative at (888) 346-9992.
D'Vine Wine Bar and Bistro is located at 107 W. Ocean Ave. in Lompc. They can be contacted at (805) 430-8356.