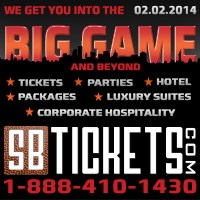 SBTickets.com, one of the world's leading sports hospitality companies, specializing in the Super Bowl, announces availability of sold out and luxury hotel rooms, as well as additional add-ons to their current packages for Super Bowl 48 in New York
New York, NY (PRWEB) November 15, 2013
SBTickets.com, one of the world's leading sports hospitality companies, specializing in the Super Bowl, is announcing new availability of sold out and luxury hotel rooms, as well as the availability of additional add-on options for their current packages for Super Bowl 48 in New York. The company is also officially announcing the creation of three additional divisions, which include Talent Acquisition, Lifestyle Management, and Event Production.
For out of state fans still searching for the perfect hotel room, SBTickets.com today, has released over 20 options available for purchase, amounting to more than 100 total rooms, now available directly for purchase on their website. Some of these rooms include the Ritz Carlton, The W, New York Athletic Club, Omni, and the prestigious Waldorf Astoria Hotel. Many of these hotels are near or within close proximity to Times Square, where Super Bowl Boulevard will be resurrected for yet another year.
Beginning today, SBTickets.com has also launched add-on options, available on all Super Bowl Packages. These options include watching the Miami Heat take on the New York Knicks at Madison Square Garden on Super Bowl eve, Saturday night, February 1st. From their package tool you are able to select which category of seats best suit your needs and budget, ranging from 400 Level seating to the Floor. In addition tickets can be added for the Maxim, or Playboy Party, as well as several others. For those fans looking to avoid some of the travel congestion, an additional hotel night can be added onto the already four night stay, for early arrival on Wednesday, January 29th, or for late departure on Tuesday, February 4th.
Over the past several years SBTickets.com has offered an elite, custom tailored hospitality service to only a select group of clientele. However, beginning this week, SBTickets.com will be launching this new service on a commercial scale, available to those either living in or attending the Super Bowl in the New York Metropolitan area. Services include unique/high class talent acquisition, lifestyle management and premium concierge service.
SBTickets.com has access to all the top artists, performers and athletes in the world. Often their services can be utilized as the core component to an event, dinner or gathering; driving brand awareness and ultimately closing important business deals. The company has the ability to offer these individuals for engagements, lectures, private functions, dinners, performances, and even to attend the game itself.
The company's lifestyle management service offers locals and visitors a full hospitality and concierge solution which will manage every aspect of a client's life. After accessing a client's objectives and lifestyle, SBTickets.com develops a personal lifestyle plan tailored to their specific needs. Their dedicated lifestyle managers assist in every way imaginable to cater to all requests, making sure to exceed expectations. Services include private jet charters, luxury residences, security services, dinner/nightlife reservations, access to VIP events, high-value goods consulting, shopping experiences, domestic help, and much more.
SBTickets.com will also be expanding its company to include full scale event production for corporations, individuals, and major publications interested in hosted their own party or gathering. Services include location scouting, concept development, staffing, design, celebrity procurement, Audio/Visual, Staging, and more.
About SBTickets.com
It began with a simple concept – Creating our core business around the biggest game of the year, the Super Bowl ; Something that was virtually non-existent at the time. Fast forward to the present and we are redefining the use of hospitality and concierge for companies looking to engage their clients in order to increase their business impact. Our top clients consist of institutions and high net worth individuals, who require the most unique custom solutions. Whether you are looking for a complete event management/hospitality solution or just specific individual components that we offer, we are here to accommodate any and all of your requests. Our service is "tailor-made" specific to your individual needs and objectives. We can also offer targeted, personal solutions for your important clients.
SBTickets.com is a premier hospitality company specializing in the Super Bowl and provides luxury access and luxury suites to high net worth individuals and institutions.