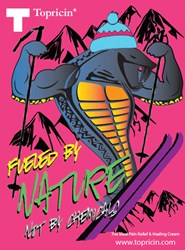 Topricin not only intends to heal the aches and pains of snowboarders and skiers but also prove a viable alternative to chemical pain medications.
Rhinebeck, NY (PRWEB) November 13, 2013
Boston is gearing up to showcase the best of ski and snowboard culture at the annual BEWI Ski & Snowboard Expo Thursday, November 14 through Sunday, November 17, 2013 at The Seaport World Trade Center.
Sponsored by top organizations including Boston.com, Subaru of New England, and WBZ; The Ski & Snowboard Expo plays host to exhibitors from across the nation – promoting winter sports from leisure to professional; easy to extreme. The aim is to bring the American mountain experience to skiers and snowboarders around the world.
Notable exhibitors at the expo include East Coast Alpine, Nordica, and Burton Snowboards; Resort exhibitors include Jay Peak, Killington, and Stratton; and Travel exhibitors include Bethel Inn; Boston Ski & Sports Club and Nonstop Ski & Snowboard.
A first-time participant, Topical BioMedics will introduce its line of natural Topricin pain relief and healing cream formulas to address the physical demands placed on ski and snowboarders' bodies and support the athletes on the slope and back home.
Helmet to boot, common winter sport ailments include:
*Lower Back Pain
*D.O.M.S. (Delayed Onset Muscle Soreness)
*Knee Pain
*Shin Splints
*Achilles
*Tendonitis
*Wind Burn
*Soft Tissue and Muscle Injuries
Applying Topricin pre-and-post slope can prevent injury; help athletes improve and maintain performance; and encourage faster recovery.
Top sports doctor Robert Gotlin – Director, Orthopedic and Sports Rehabilitation - encourages the use of Topricin for athletes:
"Whether it is an ankle sprain, low back disc disease or carpal tunnel syndrome, debilitating pain often interferes in recreational and professional sporting activities….While there are many modalities available for treating these conditions, many carry significant side effect profiles and others can be overly sedating. Fortunately, I was introduced to Topricin…this odorless and greaseless topical has become a mainstay in my medical toolbox."
Topricin not only intends to heal the aches and pains of snowboarders and skiers but also prove a viable alternative to chemical pain medications and their hazardous side effects. According to Lou Paradise, Topical BioMedics' President and Chief of Research,
"Using oral pain medications or topical ointments with menthol, camphor, and/or other counter-irritants does absolutely nothing to promote the healing process. In fact, these products literally shut down the healing process as they address the symptoms, not the cause of the pain. Conversely, Topricin quickly relieves pain by delivering a combination of synergized molecular biomedicines through the skin that stimulate the draining of toxins and fluids through the lymphatic system. This allows a return of oxygen rich blood flow in the micro-capillaries to the affected area, maximizing the body's healing and repairing process."
Topricin is honored to be heading out to the slopes - helping fuel Ski and Snowboarders towards successful, pain-free performances.
About Topical BioMedics, Inc.:
Topical BioMedics is the research and development leader in topical patented natural biomedicines for pain relief. The company's flagship product, Topricin® Pain Relief and Healing Cream, was introduced in 1994 and is now a leading natural therapeutic brand. The formula has the distinction of being the only topical patented for the treatment of the pain associated with neuropathy and fibromyalgia. Topricin was awarded a Parent Tested/Parent Approved Seal of Approval, and was selected as a 2012 Top 100 Green Products by Healthy Holistic Living. Other formulas in the product line include Topricin Foot Therapy Cream and Topricin Junior for children (with 5% sales donated to pediatric cancer foundations).
All Topricin products are made in the U.S.A., formulated with approved medicines as found in the HPUS (Homeopathic Pharmacopoeia of the United States) and are in compliance with federal rules for homeopathic over-the-counter medicines. The products contain: no parabens, petroleum or harsh chemicals, are odorless, greaseless and non-irritating, and produce no known side effects, making them ideal and safe for the entire family.
Topricin is available in pharmacies, natural food stores, and retailers nationwide, including Whole Foods, The Vitamin Shoppe, Fred Meyer, Wegmans, CVS (Foot Care Section), Walgreens (Diabetic Section) and other fine stores, as well as directly from the company. For more information, visit http://www.topricin.com.
About BEWI Productions, Inc.:
Founded in 1979, BEWI Productions is the producer of Ski & Snowboard Expos, Youth Sports Events and Specialty Winter Promotions. Under the leadership of its Founder/President, Bernard E. Weichsel, BEWI is involved in all aspects of snowsports marketing, including the production of successful consumer ski & snowboard expos, marketing U.S. destination resorts to international visitors, and fund-raising activities for the U.S. Ski Team and other non-profit organizations. http://www.bewisports.com/expos/boston/
###