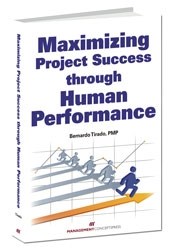 Effective project management is based on the people involved - this tool outlines the best practices for leadership success.
Tysons Corner, VA (PRWEB) November 14, 2013
Management Concepts proudly announces the publication of Maximizing Project Success Through Human Performance, by Bernardo Tirado, PMP. This new project management book will help managers in any type of organization develop the fundamental and necessary leadership skills needed to work best among project team members.
Project management is often defined by the processes and methodologies, but effective projects are actually accomplished by the people. Successfully leading teams is at the core of the project manager's job – even the seasoned project manager will encounter situations that present unique leadership challenges.
Maximizing Project Success Through Human Performance offers a clear and helpful path to help develop key leadership skills within the project management framework. Using a topical, hands-on, and practical approach, Tirado presents a model for taking any project team member's skills to the next level.
In addition, Tirado has included helpful exercises throughout make the book, making it an interactive resource that offers continual assessments.
The author, Bernardo Tirado, PMP, is an industrial psychologist, a Six Sigma Black Belt, and Chief Executive Officer (CEO) of The Project Box. The Project Box is a human performance consulting company specializing in project management, sales, and social media. Tirado has served as a senior executive with several Fortune 500 financial firms, where he built global shared services, transformed organizations through process improvement, and developed new business capabilities.
Management Concepts Press is a division of Management Concepts, based in Tysons Corner, VA, an integrated training, consulting, and publishing company dedicated to the mind at work—from entry level to executive leaders.
This book is available from your local bookstore or directly from Management Concepts Press at http://www.managementconceptspress.com.