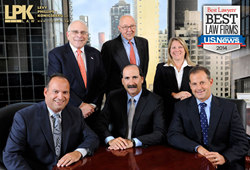 In this case, we proved that exposure to asbestos from cosmetic talc can cause mesothelioma
NEW YORK, New York (PRWEB) November 15, 2013
Personal injury lawyers from the law firm of Levy Konigsberg LLP ("LK") won a verdict on November 1, 2013, in the Superior Court of New Jersey, Law Division, Middlesex County, on behalf of Steven Kaenzig, a New Jersey resident who suffers from mesothelioma – a terminal cancer only caused by exposure to asbestos. Personal injury lawyers Moshe Maimon and Leah Kagan of LK tried the case on behalf of Steven and Linda Kaenzig.*
At the conclusion of a three-week trial, the jury determined that Whittaker, Clark & Daniels, Inc. – the distributor of cosmetic talc contaminated with asbestos and used to manufacture consumer products including Old Spice and Desert Flower body talcum powders – failed to warn Steven Kaenzig of the health hazards of the asbestos in its talc, and that this failure to warn caused his mesothelioma. The jury awarded $1.6 million in damages to Steven Kaenzig and his wife Linda, representing compensation for Mr. Kaenzig's pain and suffering, as well as loss of consortium and spousal services suffered by his wife Linda. The Kaenzigs' lawyer – Leah Kagan – stated that: "this ground-breaking verdict is the first verdict in the country holding a cosmetic talc company responsible for asbestos contamination in its product."
According to the personal injury lawsuit, Steven Kaenzig, born in New Jersey in 1967, was the victim of take-home exposure to asbestos from the contaminated talc his father brought home on his person and clothing from the Shulton Company plant in Mays Landing, New Jersey where Defendant Whittaker, Clark & Daniels, Inc.'s contaminated talc was used to manufacture cosmetic talcum products like Old Spice, Desert Flower, and Friendship Garden. Mr. Kaenzig's father brought the asbestos-contaminated Old Spice and Desert Flower talcum powder home every single night without ever knowing that the talc contained the highly toxic and hazardous contaminant: asbestos. During the course of the trial, it was revealed that Whittaker, Clark & Daniels, Inc.'s own test results showed that the talc it sold to the Shulton Company for use in consumer cosmetic talcum products contained asbestos. It was also shown that testing out of NYU performed for the FDA in 1972 and 1973 on over 100 consumer cosmetic talc products like Old Spice, Desert Flower, and Cashmere Bouquet, some of which contained talc from Whittaker, Clark & Daniels, Inc., showed asbestos contamination. The lawsuit alleged that Whittaker, Clark & Daniels, Inc. – a manufacturer and distributor of products in New Jersey – had a duty to warn users of its talc, like Steven Kaenzig, of the health hazards of asbestos contained within the product, yet Whittaker, Clark & Daniels, Inc. did not include any warnings on its talc products nor its talc advertisements.
As per the court documents, Steven Kaenzig was diagnosed with malignant peritoneal mesothelioma – a rare and fatal cancer of the abdomen – in October of 2011. He underwent a radical surgery by trailblazing surgeon Dr. Paul Sugarbaker out of Washington Hospital Center in Washington, D.C., in order to increase his chances of extending his life past two years. Mr. Kaenzig, a self-employed fiberglass insulator is supported by his wife and high school sweetheart Linda Kaenzig and their four children, Kyle Kaenzig, CJ Kaenzig, Brooke Kaenzig, and Steven Kaenzig, Jr., all residents of New Jersey.
According to the Kaenzig's attorneys, Whittaker, Clark & Daniels, Inc. unsuccessfully argued that the Kaenzigs could not prove that Steven Kaenzig's mesothelioma was caused by asbestos from its cosmetic talc because either the talc did not contain asbestos or even if it did, the amount of asbestos was negligible and therefore the minimal "take-home" exposure was not enough to cause the disease. The jury rejected these arguments in finding for Mr. Kaenzig and his wife.
In 2009, in a Special Report published by The Lancet, the International Agency for Research on Cancer ("IARC") concluded: "Epidemiological evidence has increasingly shown an association of all forms of asbestos (chrysotile, crocidolite, amosite, tremolite, actinolite, and anthophyllite) with an increased risk of lung cancer and mesothelioma" and that "all forms of asbestos are 'carcinogenic to humans' (Group 1)." More importantly, IARC confirmed that "Mineral substances (e.g., talc or vermiculite) that contain asbestos should also be regarded as 'carcinogenic to humans.'"**
Moshe Maimon, who served as lead trial counsel, stated: "There are so many families like the Kaenzigs who have been unknowingly and innocently exposed to asbestos from consumer products, because industry fails to warn workers and consumers of asbestos contamination. Not only are these victims misled, but such lethal exposures are hidden from the medical and scientific community, and the myth of spontaneous mesotheliomas is deceptively advanced as a result. In this case, we proved that exposure to asbestos from cosmetic talc can cause mesothelioma, and ultimately did cause Steven Kaenzig's asbestos cancer."
For more details about the trial and verdict, contact LK personal injury lawyers specializing in mesothelioma and consumer products Moshe Maimon or Leah Kagan at 212-605-6200.

Kaenzig v. Charles B. Chrystal, Inc., et al., No. MID-L-4873-12-AS (N.J. Super., Middlesex County).
** Special Report: Policy, A Review of Human Carcinogens – Part C: metals, arsenic, dusts, and fibers, The Lancet, Vol 10, pg. 453-454 (May 2009).