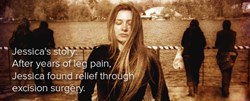 Often times doctors who aren't specialists are in over their heads with treating endometriosis. The key to successfully eradicating endometriosis is early diagnosis and intervention.
New York, NY (PRWEB) November 20, 2013
Co-founder of the Endometriosis Foundation of America, Dr. Tamer Seckin, recently released a patient success story about Jessica, a woman who after years of leg pain, found relief through excision surgery to alleviate the pain of her endometriosis.
Excision surgery is the process of a surgeon going in and safely removing the endometriosis disease from all areas with minimal risk of damage to vital structures. With a successful surgery, the woman receives restored fertility, suppression of painful symptoms, and a restored pelvic anatomy.
In the success story, Dr. Seckin stresses the importance of going to a specialist for your pain. Patients like Jessica often spend years working with gynecologists and having several expensive and time-consuming laparoscopies in a hope to alleviate their pain.
Others turn to the prescription drug Lupron, which can have severe side effects including joint and muscle aches, vaginal discomfort and bleeding, hot flashes, decreased sexual desire, and swelling of the ankles and feet.
Life without successful diagnosis and treatment of endometriosis leads to mental and physical exhaustion. For Jessica, it was many nights of crying and wondering if her pain would ever disappear.
"The key to successfully eradicating endometriosis is early diagnosis and intervention," said Dr. Seckin. "Jessica was lucky because her doctor finally realized, after several unsuccessful treatment efforts that she was in over her head in treating her endometriosis. Unfortunately, other people fighting the disease don't often get that luxury and are often times unaware that their symptoms are related to endometriosis."
Jessica has been pain-free for almost a year and is currently preparing to do another operation with Dr. Seckin to clean-up some of the additional endometriosis. To read the full success story with Jessica and Dr. Seckin, visit: http://www.drseckin.com/blog/jessicas-story-after-years-of-leg-pain-jessica-found-relief-through-endometriosis-excision-surgery.
About Dr. Seckin:
Dr. Tamer Seckin has focused on the surgical treatment of endometriosis for decades and today is a well-regarded expert in the field. His New York City based practice is known for its warm, dedicated and continuous patient care, exceptional skill and thoroughness. As a leading endometriosis specialist and laparoscopic surgeon, Dr. Seckin understands the frustration that affected individuals may feel. Dr. Seckin's treatment approach is the gold standard--Advanced Laparoscopic Excision Surgery (deep removal of all the disease). He performs almost scar-free surgery, which means less pain and cosmetically acceptable results.