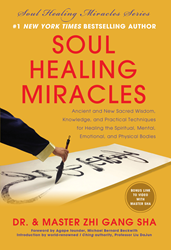 Denver, Colorado (PRWEB) November 13, 2013
New York Times bestselling author and founder of Soul Mind Body Medicine, Dr. and Master Zhi Gang Sha, is leading a Divine Soul Healing Miracles™ movement around the world helping individuals to create their own miracles in all aspects of life, find a path to harmony with the universe, achieve balance in their lives, cleanse their karma, be of service to others, and live a life that fulfills their soul's purpose. Being a direct channel from the Source, Master Sha focuses on Soul Power, and delivers soul wisdom and enlightenment by lifting the soul to a higher spiritual level in heaven. In honor of the publication of his newest book, Soul Healing Miracles, Master Sha will bestow extraordinary Soul Enlightenment blessings that will lift a person's soul standing in heaven while changing every aspect of their life, including giving them the ability to serve others.
For 10 years, Master Sha has been a servant of humanity working tirelessly to help earth's inhabitants further their spiritual journeys by teaching them to serve others. The Divine has chosen Master Sha to bestow Divine Orders for Soul Enlightenment for those seeking spiritual awakening. Soul Enlightenment has always been a privilege for spiritual masters who spent decades meditating and doing spiritual practices in remote and secluded locations, with and without high level spiritual teachers. Now, the Divine has given Master Sha the power help millions of people achieve spiritual greatness, longevity, rejuvenation and the secrets to a more profound life with this powerful order.
Watch these three video testimonials with individuals who describe how their lives have changed with Soul Enlightenment:
Edward: (San Francisco)
http://youtu.be/9EaOpdFdCg0
Hui-Ling: (Toronto)
http://youtu.be/ceGRUw5ng-Q
Ilise: (Cologne, Germany)
http://youtu.be/AzUe9xENs70
When Master Sha uplifts individuals with Soul Enlightenment, they will experience:

Profound Inner Peace
More Joy
Gratitude for Everything in Life
Clearer Thinking
Astounding Creativity
Great Inspiration and Brilliant Ideas
Make Better Decisions
Less Daily Stress
More Fulfilling Relationships -- family, business, friends, pets
Stronger Financial Foundation
More Focus and Clarity about Life's Purpose
More Personal Spiritual Journey
To honor the publication of his newest book, Soul Healing Miracles, Master Sha offers the Love Peace Harmony World Family Program, which gives readers an opportunity to receive Soul Enlightenment that will forever change every aspect of their lives. In this groundbreaking book, readers will learn sacred wisdom, Source meditation and mantras to further their spiritual journey. For the first time, Master Sha's own Source Ling Guang (Soul Light) Calligraphy art is included and carries matter, energy, and soul of The Source, which can transform the matter, energy, and soul of the spiritual, mental, emotional, and physical bodies.
For more information about this program, visit: https://www.drsha.com/the-source-enlightenment-opportunity-nov11/
Master Zhi Gang Sha is the soul leader, a world-renowned master healer, and a divine servant. He is the founder of Soul Mind Body Medicine. Dr. Sha was named Qigong Master of the Year at the Fifth World Congress on Qigong. In 2006, he was honored with the prestigious Martin Luther King, Jr. Commemorative Commission Award for his humanitarian efforts. Master Sha was featured on PBS for his authoritative book series , Soul Power.
Dr. and Master Zhi Gang Sha has more than 100,000 followers on Facebook and more than 200,000 devotees worldwide. Legions of people attend his daily LiveStream events at https://www.drsha.com/master-shas-live-events/. Master Sha is author of more than 10 books published by Simon & Schuster (Atria Imprint) and his newest book, Soul Healing Miracles (BenBella) became an Amazon bestseller 24 hours prior to publication. Dr. Sha's most recent New York Times bestselling book, Divine Healing Hands (September, 2012) topped national bestseller lists within 24 hours of publication and his 2011 book, Tao Song & Tao Dance was also a New York Times bestseller.
For more information about Master Sha, the Soul Enlightenment opportunity or his new book, Soul Healing Miracles, visit: http://www.DrSha.com.