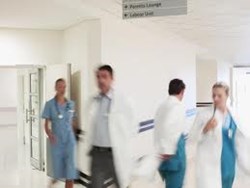 From the allegations made, it appears the lives of both mother and baby have potentially been put in danger
Bolton, UK (PRWEB UK) 21 November 2013
According to a news report released in The Telegraph this week, a pregnant woman almost died, after receiving what was described as "appalling care" by the NHS hospital (1).
The patient in question, Jane McGuinness, was reported to have hemorrhaged during an emergency caesarean section at the hospital. Following this, she was allegedly made to wait two hours, before an operating theatre became available, leading to the loss of five pints of blood (1).
Further from these disputes in care, Mr McGuiness claims that the anaesthetist gave his wife a drug that had been taken out of a clinical waste bin. Prior to entering the operating theatre, Mr. McGuiness was asked to change his clothes in a dirty bathroom, leaving him with urine on his trousers, raising the risk of Mrs McGuinness contracting a hospital acquired infection (1). Following the surgical procedure, it is further alleged, that she was left unsupervised for twenty minutes, and consequently, nurses failed to recognise that she was suffering from internal bleeding, leading to a loss of consciousness (1).
Speaking on the incident, Suzanne Yates, from medical negligence solicitors, Asons, said:
"These allegations are extremely concerning, and upsetting to say the least. What was supposed to be a monumental, beautiful moment for this family has been extremely distressing, caused by what appears to be a major duty of care breach. From the allegations made, it appears the lives of both mother and baby have potentially been put in danger.
It makes very little sense that someone would find it appropriate to remove medication from a clinical waste bin, and re-use on a patient. It is this sort of carelessness that costs lives."
The health care regulatory body, the Care Quality Commission, has already issued Whipps hospital with three warnings this year, following poor care and hygiene levels of their maternity wards, which has encouraged them to launch an investigation into this incident (1).
Continuing to comment, Suzanne Yates said:
"We have spent a lot of time dealing with medical negligence claims, so we understand the standard of care which should be provided by a medical professional; these allegations fall far below such standard.
Mrs McGuiness still requires treatment following the incident, and she was forced to spend a further two weeks in hospital; time she should have been spending with her new born baby. I hope the CQC take these allegations seriously, and investigate the situation, preventing it from happening to anyone else."
Healthcare professionals have a duty of care, which needs to be up held. Where they fail to do this, and injury or suffering occurs as a result, there may be grounds to make a medical negligence claim for compensation. Asons Solicitors have a team of legal professionals, who have dealt with many cases of this kind, and can offer legal support to anyone who has suffered from birth related injuries. To find out more information visit http://www.asons.co.uk or phone 01204 521 133 to speak to a medical negligence solicitor.
(1) The Telegraph, Pregnant woman 'almost died' amid labour care failings, 12/11/2013
http://www.telegraph.co.uk/health/healthnews/10441949/Pregnant-woman-almost-died-amid-labour-care-failings.html
(2) Care Quality Commission, CQC warns Barts Health NHS Trust that it has failed to protect the safety and welfare of patients at Whipps Cross University Hospital, 14/08/2013
http://www.cqc.org.uk/media/cqc-warns-barts-health-nhs-trust-it-has-failed-protect-safety-and-welfare-patients-whipps-cros
Case Investigation Number: NJ19C00160

About Asons Solicitors:
Asons Solicitors is a Bolton-based law practice that specialises in personal injury and industrial disease claims. Founded by brothers Imran Akram and Kamran Akram, Asons Solicitors has developed to become a young and dynamic law firm that delivers practical solutions to clients in times of difficulty. Their continued focus on their staff has seen them awarded with the Investors in People "Gold Award"; which is reflected in the professional and personable approach they take in working with clients. They strive to grow and to develop, and their supportiveness and attention to detail ensures that their clients use them time and again.
For further information contact:
Email: info(at)asons(dot)co(dot)uk
Website: http://www.asons.co.uk