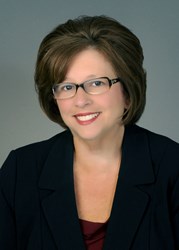 YOUNGSTOWN, Ohio (PRWEB) November 15, 2013
Humility of Mary Health Partners (HMHP) has named Kathy Cook to the position of president, St. Joseph Health Center in Warren, Ohio.
"Kathy is a great asset to HMHP," commented Bob Shroder, president and CEO, HMHP. "She has been in the role of president on an interim basis since June and has done an excellent job during this time. We look forward to her future at St. Joseph."
Cook was most recently chief nursing officer at St. Elizabeth Health Center. She has been part of the HMHP system since she started as a nursing student at St. Elizabeth's School of Nursing. She has progressed through the management ranks starting as an assistant head nurse, moving to a head nurse, then a director, senior director and executive director of nursing.
In addition to her nursing diploma, Cook holds a Bachelor of Science in nursing from Youngstown State University and a Master's in Nursing Administration from Gannon University. She is also a graduate of the Catholic Health Partners Leadership Academy.
She resides in Kinsman with her husband Gary. They have three adult children, Tatiana of Kinsman; Anna, a student at The Ohio State University; and Alex, a member of the United States Air Force.
St. Joseph Health Center, a 219 bed inpatient facility located in Warren, Ohio, offers a full range of inpatient and outpatient services, including the area's most innovative emergency department and most comprehensive cancer center. The first verified Level III trauma center in Trumbull County, St. Joseph houses the county's most advanced surgical suites and an AOA-accredited internship and residency medical education program through the Ohio University. St. Elizabeth and St. Joseph health centers were the first hospitals in Ohio, and among the first 100 hospitals in the nation, to achieve Magnet Recognition for Excellence in Nursing from the American Nurses Credentialing Center (ANCC).
About Humility of Mary Health Partners
Humility of Mary Health Partners is an integrated health system located in the Youngstown/Warren area. It is a market of Catholic Health Partners (CHP) in Cincinnati, the largest health system in Ohio and one of the largest Catholic health systems in the United States. HMHP provides a full spectrum of health care services, including inpatient, outpatient, emergency, urgent care, home care and long-term care. Members are St. Elizabeth Health Center, St. Joseph Health Center, St. Elizabeth Boardman Health Center, HM Home Health Services, The Assumption Village, Humility House, Hospice of the Valley and Laurel Lake. Learn more about HMHP online at http://www.HMpartners.org.