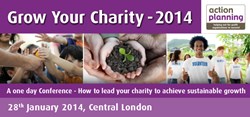 This conference is designed to help charities to achieve sustainable growth in all areas.
London (PRWEB UK) 17 December 2013
The Action Planning team is delighted to announce its next one-day fundraising conference "Grow Your Charity 2014", for the Not-for-Profit sector on Wednesday 28th January 2014.
This conference will help charity leaders to consider how they will lead their charity to achieve sustainable growth in fundraising. Be inspired by hearing from leading business practitioners and experts along with charities that are making it happen.
The day, with almost 20 speakers and a range of exhibitors, will provide key note messages, a choice of three streams and an opportunity to network with suppliers and other organisations to help charity leaders to think like an entrepreneur, stretch to achieve even better results and lead their organisations to achieve outstanding results.
Baroness Lane-Fox, Chair of Go ON UK, one of the keynote speakers said this about the event: "This conference is designed to help charities to achieve sustainable growth in all areas. This includes the internet which offers an unparalleled opportunity for charities to achieve sustainable growth, by saving time and money, and by motivating and communicating with donors. It is vital they get access to the right help to build digital skills to unlock these benefits."
Follow the conversation and find out more information about Grow Your charity 2014, including details of the programme and confirmed speakers, at http://www.actionplanning.co.uk/growyourcharity2014
https://twitter.com/action_planning
Action Planning is a leading full-service consultancy to the not-for profit sector. Our mission is to help not-for-profit organisations succeed, and our staff team is committed to delivering high-quality, value for money work that meets the needs of our clients, every time.
We specialise in all types of fundraising, marketing and research and on business and organisational development.
Baroness Lane-Fox is chair of Go On UK. She co-founded lastminute.com in 1998 and sold it in 2005. She founded Lucky Voice in 2004 and her own foundation Antigone. She is an NED at M&S, mydeco, the Cabinet Office and the Womens Prize for Fiction. She is chair of Makielab and a patron of Reprieve, Abilitynet, and Just for Kids Law.