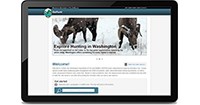 Richmond, VA (PRWEB) November 15, 2013
The Washington Department of Fish and Wildlife (WADFW) selected Timmons Group to provide services for the development and implementation of a statewide web application entitled GoHunt! GoHunt is the Washington Department of Fish and Wildlife's most comprehensive mapping information site. Display options include layers showing game management unit (GMU) boundaries, public and private lands hunting opportunities, roads, topographical features and county lines.
A primary focus of the application is to increase awareness of hunting opportunities on public and private lands and to increase the current number of sportsmen who purchase licenses and support the department. Based on input provided by users, the mapping tools are simplified and improved to make this site easy to use while still providing the information that you need to get outdoors.
"The team at Timmons Group was a great addition to our technical staff on this project. We had a shared vision of providing a unified, yet simple, application to provide to the citizens and visiting public in the State of Washington. Washington has an incredible array of natural resources and our challenge was to make it highly accessible to our customers. Timmons Group was a great partner in this vision." Brian Calkins – Section Manager for WADFW.
In addition to these options, hunting regulations and harvest statistics are readily available by specific areas and species of interest. GoHunt went live in 2012 and can be found online at: http://www.wdfw.wa.gov/mapping/gohunt.
About Timmons Group
Timmons Group is a leading provider of geospatial solutions focusing on intuitive and integrated products. Timmons Group develops solutions across multiple platforms, including JavaScript, HTML5, and native mobile operating systems. Timmons Group maintains a strong business partner relationship with Esri, and has been a recipient of both the Esri Business Partner of the Year award and the Esri Foundation Partner of the Year award. For more information about Timmons Group's geospatial products and services, contact Lowell Ballard at lowell.ballard(at)timmons(dot)com or visit http://www.timmonsgis.com.