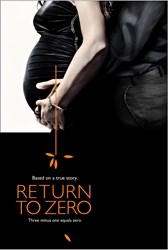 'The subject of pregnancy and infant loss has been taboo for way too long.'-Sean Hanish, filmmaker, Return to Zero
Rhinebeck, New York (PRWEB) November 14, 2013
Reconceiving Loss, LLC has announced a collaboration with award-winning writer/producer/director Sean Hanish, who will release his newest movie, "Return to Zero", this coming spring. The film stars Minnie Driver and Paul Adelstein as a successful couple who must navigate their grief following the loss of their child in utero days before his birth.
"The subject of pregnancy and infant loss has been taboo for way too long. Our goal with "Return to Zero" is to break the silence surrounding the topic, and we are thrilled to collaborate with Reconceiving Loss to help those who have experienced miscarriage or stillbirth find their voices. Because of the overwhelming support for the film and the desire of those in the community to share their stories, we were approached by a publisher to create a collection of stories from people who had experienced such loss. The request for submissions resulted in a tremendous outpouring of heartfelt stories, many of which will be included in our book, Three Minus One, which will be released in conjunction with the film, and the others not incorporated into the book will be included in a digital archive curated by Reconceiving Loss, with the stories being shared one at a time on their site over the coming months," stated Sean Hanish, writer, director, and producer of Return to Zero, among other films. "Reconceiving Loss is providing us with a wonderful platform to expose more stories, and we are very grateful for this collaboration. Our collective effort to raise awareness about the issues couples face following infant loss will hopefully touch the lives of those who have experienced it first-hand, as well as those who know someone who has."
"My husband, Gavin Curran, and I developed Reconceiving Loss following the loss of our own son, at which point we became painfully aware that there was very little support available to foster real healing. There were certainly bereavement groups and self-help books out there, but I needed an interactive experience that could help me work through my grief; that type of platform seemed to be nonexistent at that time. People didn't know what to say, or avoided the dialogue altogether. I wanted to use my own experience to provide support for others, and give them the opportunity to engage in online activities designed not only to honor the grieving process, but also to inspire restoration," said Tara Shafer, founder of Reconceiving Loss, LLC. "When Sean experienced an overwhelming response to his call for submissions, our online platform seemed to be the most natural solution. Every one of these stories is unique, important, and has the potential to cultivate a culture of sensitivity surrounding these issues. We will feature one at a time so that we can give people the opportunity to experience the voice and journey of each writer. Ultimately, these stories can not only help those who are grieving, but can help the loved ones who are helping them overcome grief."
"The men and women who are sharing their stories are incredibly brave. Our film, based on a true story, will hopefully help the public understand how devastating this experience can be – and our collaboration with Reconceiving Loss will, ideally, further our mission to spark a national conversation about pregnancy and infant loss. I am in awe as I watch this project take shape, and I feel privileged to be a part of the effort to shed light on these issues," shared Sean Hanish.
It is estimated that 25% of pregnancies result in loss annually. In the United States, the number of stillborn babies, estimated at 26,000, is equivalent to the number of automobile-related fatalities each year.
Story submissions sent to Return to Zero as part of the Three Minus One book project will be included in the digital archive at reconceivingloss.com; any additional submissions will also be reviewed and considered on a rolling basis. To read the stories and learn more, visit reconceivingloss.com, or email info(at)reconcievingloss(dot)com. To learn more about the film, Return to Zero, and its mission, visit returntozerothemovie.com.
About Reconceiving Loss
Reconceiving Loss is a comprehensive digital resource center for families coping with pregnancy and infant loss. Prominent physicians, including Dr. Andrew Weil and others, who have written articles on the medical and psychological impact of baby loss, recommend Reconceiving Loss as a portal for support and healing.
Other contributors include award-winning novelist Edie Meidav (NYT and LA Times Book of the Year picks), who teaches novice writers to write about loss and offers a customized video primer. Wendy Ewald is a MacArthur-genius award-winning photographer. Writers on the site have had their work appear in the New York Times, Huffington Post, and Yale Review, to name just a few. The site features Alex Auder of West Village Yoga leading meditation and restorative yoga poses, and videos filmed by cinematographer Paul Reuter, who has many credits to his name including American Experience, and others. Sean Hanish has also written for the website.