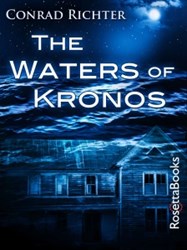 New York, NY (PRWEB) November 14, 2013
The haunting and lyrical story about family history, community and reconciliation, which won Conrad Richter the 1960 National Book Award, is now available in digital format. The Waters of Kronos has sparked lively debate over the years to how much the story is mirrored to Richter's own life.
The main character, John Donner, returns home to the East Coast after living in the western states only to discover that his childhood town has been submerged beneath a lake created for a hydroelectric dam. Although the public is not allowed in the area, Donner manages to sneak his way in and is flooded with memories even though the place is now underwater.
Conrad Richter grew up in Pennsylvania in the early 20th century and knew several descendants of pioneer families. He took a job at the age of 19 as an editor for a local paper and began publishing in pulp magazines shortly thereafter. Richter often wrote about the disappearance of the American frontier in addition to themes on connection and recollection.
Other novels penned by Richter include The Light in the Forest and Sea of Grass. He won the Pulitzer Prize in 1951 for his novel The Town, the last in a trilogy about Ohio during frontier times.
The Waters of Kronos is available on Kindle, Nook, Apple, Barnes and Noble and Kobo for $8.99.
About RosettaBooks: RosettaBooks is the leading independent digital publisher. Its prominent author collections include 52 works of Winston Churchill, 35 titles by renowned science fiction author Arthur C. Clarke, 20 works by Kurt Vonnegut, 12 titles from international bestselling business author Stephen R. Covey and 18 works by Robert Graves, celebrated 20th century English poet, critic, and author of I, Claudius and Claudius, the God. RosettaBooks also publishes eBook lines in collaboration with AARP, Harvard Health Publications and Mayo Clinic. Publisher of ten Kindle Singles, including Ray Bradbury's The Playground, RosettaBooks has launched nine of them to bestseller status. RosettaBooks is an Inc. 500 company, on the exclusive list of the fastest growing private companies in the United States. For more information, please visit RosettaBooks.com and follow the e-publisher on Facebook.