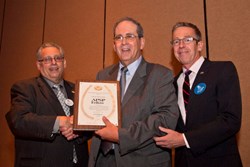 Las Vegas (PRWEB) November 19, 2013
The Association of Pool & Spa Professionals (APSP) has named Carvin DiGiovanni, APSP Senior Director, Technical & Standards, as an APSP Fellow, the industry's top recognition for contributions and thought leadership at the frontiers of the pool and spa industry, and for exceptional potential to shape the future of the industry through intellectual and inspired leadership.
The peer-nominated honor was developed by the APSP Board of Directors in 2012 to recognize industry leaders who have demonstrated a long-standing commitment to learning and development through the presentation of educational programs, technical and business publications, and industry related research.
DiGiovanni has been working in standards since the early 1970s and brought his experience working at the American National Standards Institute (ANSI) to APSP (then the National Spa & Pool Institute). Driven by his knowledge of and experience with ANSI, he was able to get the pool and spa industry's first standards ANSI approved. Since 1983, APSP has been accredited by ANSI as the Standards Development Organization for the nation's pool and spa standards and now counts 13 American National Standards under its purview. These national consensus standards establish voluntary minimum guidelines that, when adopted by governments and agencies, have the force of law.
The International Code Council (ICC) reached out to DiGiovanni about five years ago to explore incorporating the ANSI/APSP standards into the International Swimming Pool & Spa Code (ISPSC), which led to a memorandum of understanding between APSP and ICC and the eventual approval by the ICC Board of the ISPSC. Described by DiGiovanni as the glue that connects pool contractors and code inspectors in a closer working relationship, APSP continues to advocate adoption of the ISPSC to make pools and spas safer across the country, with many jurisdictions already adopting it.
Most recently, DiGiovanni was recognized by the FBI in 2011 with the Exceptional Service in the Public Interest Award. He has worked with the FBI for several years to increase the awareness of how chemicals used in the pool, spa and hot tub industry could be misused and threaten homeland security.
DiGiovanni was recognized at the APSP Chairman's Reception on Nov. 11 at the 2013 International Pool | Spa | Patio Expo. He joins the following esteemed Fellows: Paulette Pitrak, NESPA; Jana Auringer, The Pool Lady; Bob Baron, CBP, CSP, Baron Pool Service; Steve Barnes, Pentair Aquatic Systems; Dan Johnson, CBP, Swim Inc.; Mark Laven, Latham International; Ron Lacher, CBP, Pool Engineering; Albert Rizzo, CBP, CSP Rizzo Pools; Rick English, CBP, English Pool Consulting; Al Inglin, Aqua Pool Service & Spa; and Tom Seechuk, LaMotte.
"APSP's Standards are, and continue to be, what gives our industry's products credibility," APSP President and CEO Rich Gottwald said. "Carvin has led the charge in building critical relationships with government and code officials, and worked with industry organizations to develop sensible standards and products, the impact of which will be positively felt for years to come."
While there is no single criterion for selection to the ranks of APSP Fellows, they are those who have made lifelong contributions to the industry, as well as those who are trailblazers, innovators, and leading thinkers who have created a mark of distinction in their careers. Fellows can be nominated by their peers in the pool and spa industry and may be nominated from any segment of the industry and honored posthumously.
"The APSP Board of Directors congratulates Carvin on this recognition and his extraordinary work to position APSP as the go-to organization for safety and standards," said Steve Gorlin, APSP 2012-2013 Chairman of the Board. "There is no doubt that his efforts have positively influenced consumers' confidence in our industry's products."
For more information about the Fellows program, visit APSP.org/Fellows or call 703.838.0083 ext. 274.
•••
About APSP
The Association of Pool & Spa Professionals (APSP) is the world's oldest and largest association representing swimming pool, hot tub, and spa manufacturers, distributors, manufacturers' agents, designers, builders, installers, suppliers, retailers, and service professionals. Dedicated to the growth and development of its members' businesses and to promoting the enjoyment and safety of pools and spas, APSP offers a range of services, from professional development to advancing key legislation and regulation at the federal and local levels, to consumer outreach and public safety. APSP is the only industry organization recognized by the American National Standards Institute to develop and promote national standards for pools, hot tubs, and spas. For more information, visit APSP.org.