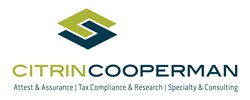 "We are honored to sponsor an award that recognizes the critical work that Bringing Hope Home is doing - helping our neighbors keep a roof over their head and food on the table while they fight cancer," said Mark Carrow, Managing Partner
Philadelphia, Pa. (PRWEB) November 14, 2013
The accounting, tax and business consulting firm of Citrin Cooperman is pleased to sponsor the Greater Philadelphia Chamber of Commerce's 2014 Non-Profit Organization of the Year award, given to Bringing Hope Home.
Founded by West Chester University grad Paul Isenberg, Bringing Hope Home raises money to help pay bills while a family supports a loved one fighting cancer. Since its inception in 2008, the Wayne-based group has paid more than $1.5 million in household bills for more than 1,425 families with cancer in the greater-Philadelphia area.
"We are honored to sponsor an award that recognizes the critical work that Bringing Hope Home is doing - helping our neighbors keep a roof over their head and food on the table while they fight cancer," said Mark Carrow, Managing Partner of Citrin Cooperman.
Citrin Cooperman partner Kevin Ryan will present the 2014 Non-Profit of the Year award to Paul Isenberg, founder and CEO of Bringing Hope Home, at the chamber's award ceremony.
The award is one of 11 being given out as part of the Greater Philadelphia Chamber of Commerce's annual Excellence Awards, which celebrate and honor companies and organizations making a positive impact in the greater-Philadelphia area. Winners will be formally recognized at a celebration Nov. 20 at The Crystal Tea Room. For more information or to buy tickets, visit: http://www.greaterphilachamber.com/event/3369/31st-annual-excellence-awards.
About Citrin Cooperman:
Citrin Cooperman (http://www.citrincooperman.com) is a full-service accounting and consulting firm with locations throughout the Northeast that provide a range of attest, assurance, tax, business advisory, valuation, and forensic accounting services to clients across the globe. Citrin Cooperman has deep experience in a variety of industries, including entertainment, real estate, staffing and executive search, not-for-profit, architecture and engineering, auto dealerships, franchising, and technology. Founded in 1979, Citrin Cooperman is an independent member firm of Moore Stephens International Ltd.