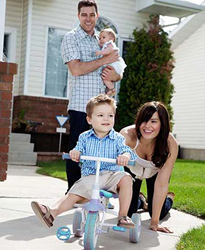 "Homeownership is how many younger American families begin to accumulate wealth. The oldest of the Millennial generation are now entering the years in which people typically buy a first home." ~ Paul Bishop, NAR vice president of research
Minneapolis, Minnesota (PRWEB) November 14, 2013
The Millennial generation is impacted by the metro community the live in, according to the recent Opportunity Nation report, Vermont, Minnesota and North Dakota rank tops as states that best support Millennials. The Minneapolis Millennial generation of home buyers are proving they have the skills of obtaining adequate employment, time management, the ability to save for a home downpayment, and aren't afraid of taking on the responsibilities of homeownership.
Twin Cities home sellers find that Minneapolis housing market changes include marketing to another generation. Marketing to Twin Cities Millennial home buyers includes knowing how to integrate new selling strategies that glean their interests. It may be central to sellers success," says Jenna Thuening, owner of Home Destination.
Opportunity Nation report tracked 16 factors in their report, including Internet use, college graduation rates, employment, income, and easy access to public transportation and downtown activities.
Another housing survey jointly conducted by the Urban Land Institute and the National Association of Realtors shows that Millennial buyer preference is clear for single-family homes. In separate surveys conducted between 2007 and 2011, Millennial generation home buyers overwhelmingly, 65-75%, wanted to buy single family homes versus other options. The percentage of residents age 20-29 living in suburbs increased from 2000-2010. Over that same period and age group the share of Gen X residents declined within urban environments. This shift from Gen X to the Millennial generation numbers is about 75% larger than Gen X, meaning, there are even more of this age for home sellers to cater to.
Urban theorists such as Peter Katz maintain that Millennials have little interest in returning to the cul-de-sacs of their teenage years living growing up in their parents home. Manhattanite Leigh Gallagher asserts with certitude that Millennials prefer homes that are more eco-friendly, singleton-dominated urban living.
According to Policy Mic and Pay Scale, Twin Cities Gen Y's who may buy a home:

Have a median salary of $42,800
Have a average commute time of 20.4 minutes to work from home
Make up 23% of Minneapolis population's employees
Rank Minneapolis as the 4th best city nationally in which to work and live in
Policy Mic rated Minneapolis 3rd best place for Millennials to live. Minneapolis is also renowned for its progressive and creative culture. Nearly 40,000 people live downtown, making it a hub of top quality entertainment and shopping buzz.
Business Insider ranked Minneapolis the 9th most preferred city for Millennials to live in; or officially Minneapolis tied for the 10th best city with Anchorage AK.
"In order for Minneapolis to succeed, we need to catch up to our peer cities in the contest for the best and brightest young people looking to start their lives and careers and the businesses that follow." according to a September 28th Star Tribune article by Scott Dibble and Frank Hornstein. Dibble is a member of the Minnesota Senate and Hornstein is a member of the Minnesota House of Representatives. Other legislative share the same focus of ascertaining Millennials choice to live and work in the Minneapolis metro. The University of Minnesota's Humphrey School of Public Affairs conducted a series of conversations with Twin Cities home builders and business executives to research strategies for attracting a wide range of affordable housing choices and living-wage jobs to transit station areas.
"New Urbanist designing homes recognize that a strong consciousness exits among home builders seeking the Millennial generation niche. Twin Cities home sellers can market their home's advantages as well when offering a location that meets the need for living in walkable neighborhood destinations and easy transit access," adds Thuening. Millennials - an infamous group of young men and women born between 1979 and 1994 may be noted for passionate, unpredictable, disruptive, and trendy lifestyles, also want easy transportation between home and work.
For a widely recognized Twin Cities Realtor for customer service and industry knowledge, contact Jenna Thuening, owner of Home Destination. Minneapolis real estate sellers seeking guidance marketing a home for Minneapolis Millennial home buyers may call 612-396-7832.