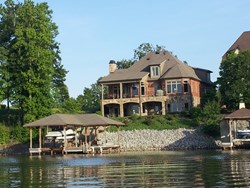 Best Places to Live in Eastern Tennessee
Knoxville, Tennessee (PRWEB) November 13, 2013
Celebrating 16 years, the Rarity Bay Women's Club is busy at work preparing for the December 3, 2013 Holiday Party and over 100 Rarity Bay women property owners have already signed up! Volunteering at Rarity Bay is fitness for the soul in this warm and friendly Eastern Tennessee lake community. No wonder why Rarity Bay has been mentioned as one of the best places to retire in Tennessee - the Rarity Bay residents feel good inside and out!
During college, one of the happiest and most inspirational periods in a person's life, there are many events and activities available. The campus events, fraternities and sororities and educational clubs motivate others to participate in the community. From singing songs to bake sales and outdoor football games to evening strolls in the courtyards, the college memories can seem so far away, but joining a community that values these activities and events is just around the corner.
The community at Rarity Bay in Eastern Tennessee remembers these fun-filled activities and events, and encourages other residents to become involved with the Rarity Bay social clubs. Rarity Bay is one of the most friendly communities in Eastern Tennessee and is bringing back the college spirit for those would want to stay fit with friends, scope out the local downtown shops or kick back with on a boat in the middle of the water. Staying young at heart is easy at Rarity Bay.
This year, Rarity Bay social clubs have been the center of attention. The Eastern Tennessee lake community has a variety of activities and clubs to join and encourages an active adult lifestyle. Rarity Bay is so enthusiastic about having fun, it states on their website, "living here is like being in college without tests." Rarity Bay is considered one of the best places to retire in Tennessee and this tight-knit community promotes friendships and giving back to the community with local volunteer projects.
The Rarity Bay social clubs sponsor a handful of volunteer projects, while other members participate in giving back to the community with civil groups and service clubs. Rarity Bay members are involved with the American Legion, Lions Club, Rotary Club and Knights of Columbus. Other volunteer opportunities are found at: The Boys and Girls Club, United Way, Habitat for Humanity, Meals on Wheels and much more!
Rarity Bay has become one of the best places to retire in Tennessee thanks to the involvement of members and initiatives to enhance their experiences. The community enjoys cultural activities like attending the Knoxville Symphony, Knoxville Zoo, Fort Loudoun State Park, Knoxville Opera and more. This Eastern Tennessee lake community prides itself on quality and quantity! Members who cannot find a club or hobby they already enjoy, can start their own.
There are sports like football, tennis, yoga and horseback riding at the Equestrian Center. Pet owners can even bring along their dogs with a social dog park meeting. Members can exercise their vocal chords with the Rare Note Singers or ride through the gorgeous scenery with the Rarity Bay Motorcycle Riders.The fun keeps on coming and in full force at this hip and happening community.
With all the exciting opportunities available at the Rarity Bay clubs, nothing gets old!
About Real Estate Scorecard:
Real Estate Scorecard writes unbiased real estate reviews providing in-depth information about popular gated communities in Florida, Georgia, North Carolina, South Carolina and Tennessee, all in an effort to help people discover where to retire in the Southeast.
Website: http://realestatescorecard.com