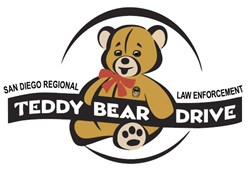 San Diego, CA (PRWEB) November 13, 2013
SmileCare has a new way to help children smile! Orthodontist Dr. Geoffrey Kopecky and the entire SmileCare team of specialists and general dentists are collecting stuffed animals for the San Diego Regional Law Enforcement Teddy Bear Drive to benefit the children undergoing treatment at Rady Children's Hospital. The teddy bears are sure to bring smiles to the faces of children who are ill or injured.
From now through December 6, anyone can drop off a new stuffed animal, with tags attached, at any of our eight San Diego-area locations:
SmileCare Chula Vista
510 Broadway, Suite 4-5
Chula Vista, CA 91910
(619) 476-9400
SmileCare El Cajon I
1242 East Main St.
El Cajon, CA 92021
(619) 444-6355
SmileCare El Cajon II
2990 Jamacha Road,
Suite 132
El Cajon, CA 92019
(619) 670-1700
SmileCare Kearny Mesa
3820 Convoy Street
San Diego, CA 92111
(858) 569-1100
SmileCare La Mesa
5601 Grossmont Center Dr., Suite 200
La Mesa, CA 91942
(619) 462-2272
SmileCare Mira Mesa
8997 Mira Mesa Blvd.
San Diego, CA 92126
(858) 536-5550
SmileCare Mission Valley
1333 Camino Del Rio S.,
Suite 202
San Diego, CA 92108
(619) 260-4990
SmileCare Vista
1010 E. Vista Way
Suite ABC
Vista, CA 92084
(760) 940-8811
The Teddy Bear Drive was started in 1990 by Coronado Police Officer Brian Hardy. It's grown to include participants from police, sheriff, state, and federal law enforcement agencies and local sponsors. It hopes to collect more than 60,000 teddy bears to distribute to children at Rady Children's Hospital throughout the year. SmileCare is proud to be a partner to help it reach its goal.
# # #
About SmileCare
SmileCare Coast Dental of California, Dental Group of Adam Diasti DDS PC, with its professional associations, is one of the largest providers of general and specialty care in the United States with 180 affiliated practices operating as Coast Dental, SmileCare, and Nevada Dental Associates in Florida, Georgia, California, Nevada and Texas. SmileCare offers family dentistry services and orthodontics at all of its California locations, plus many offices offer pediatric dentistry, oral surgery, endodontics, and periodontics. SmileCare accepts more than 200 types of insurance, and has special offers for patients without insurance. To find a location or request an appointment, call 1-800-32-SMILE or visit SmileCare.com.