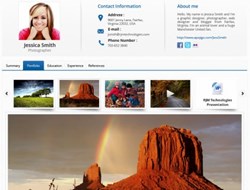 Apojigo's ePortfolio gives you all the tools to tell your story.
Fairfax, VA (PRWEB) November 19, 2013
RJM Technologies, a staffing and recruiting firm, has released Apojigo (http://apojigo.com), a new ePortfolio Web service. Apojigo is designed to give students and professionals a better way to tell their story and edge out the competition in this competitive and shrinking job market.
"We've been in the recruiting business for more than 10 years and have literally read thousands of resumes and interviewed hundreds of candidates. We and our clients are frustrated with reviewing resumes because they only tell part of a candidate's story," said RJM Technologies president Rob Main. "They tell you the candidate's basic background information – education, work history and skills – but provide no way to see the kind of work a candidate produces or any indication of their personality. We need to know more of their story. We need work examples and artifacts."
The Apojigo ePortfolio service is focused on two key design goals: be ingeniously simple to use and allow users to add any content from any source. Its tabbed interface is intuitive and straightforward and requires no HTML coding. Content, including Word documents, PowerPoint presentations, Excel spreadsheets, Adobe PDF files, images, videos and audio, can be added and displayed from any web browser and on any device. It also includes several additional features that allow for:

unlimited "views" to target different audiences with specific content;
a send for comment feature that allows colleagues to comment on content; and
robust and flexible privacy to control who can view their ePortfolio.
There are other ePortfolio products available but most are designed for displaying images from artists and photographers, and require some understanding of HTML coding. They're not easy to use and they're not designed to tell a candidate's story where they can explain and describe the context of an artifact. "We think Apojigo fills this gap and now gives students and professionals a tool they need to present their portfolios to employers," says Rob Main.
For more information visit apojigo.com, or click here to get started.
About RJM Technologies
RJM Technologies is a recruiting firm founded in 2004 in the Northern Virginia technology corridor by three founders with a successful history of building Web-based products going back to 1994. Together, they have more than 50 years of experience working and hiring in several industries. They believe that to provide recruiting value to clients requires extensive prequalification of candidates by smart people with domain knowledge so that you're personally vouching for people, not sending resumes.
CONTACT: Rob Main: (703) 652-3840