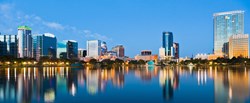 It's no wonder so many families love to call Orlando home.
Orlando, FL (PRWEB) November 13, 2013
When you hear someone mention Orlando, Florida, the first thing that typically pops in mind is Walt Disney World, Mickey, Minnie, and all of the fabulous fun to be had in the land where dreams come true for kids and families every day. Sure, Orlando is best known for Disney but the event and activity offerings for families don't nearly stop there.
Orlando is a bustling city in the central region of Florida, smack dab in the center of the Greater Orlando metropolitan area. It has been dubbed "The theme park capital of the world," but beyond theme parks, there are massive numbers of restaurants, shopping areas (including mall-style, outdoor plaza and individual boutique style), business centers and conventions centers, concert venues galore, and much, much more. It's no wonder so many families love to call Orlando home.
Florida real estate company Distinct Estates has witnessed the allure to the area first-hand, in assisting families to find their perfect home.
Orlando's offerings cater to residents and visitors of all ages and interests. A number one reason the city is chosen to host so many events, is because of its shear capacity to successfully accommodate and entertain.
Most recently, it has been announced that the Inaugural Youth and Family Golf Summit will be held in Orlando, on January 20, 2014. The event kicks of the week of the 61st PGA Merchandise Show. The 2014 Summit theme is "The Power of Youth & Family Golf."
The event, which will draw PGA members and other golf industry representatives who are interested in expanding their business, will feature keynote speaker Dottie Pepper and presentations by Junior Golf Leaders Nicole Weller, Don Law, Rick Grayson, Sandy La Bauve, and John Godwin. Speakers will share the importance of golf in their lives, at all levels.
The Summit will be held at the Orange County Convention Center and will also offer presentations on effective coaching for true learning, the importance of fitness for youth and families, trials and tips in fitting clubs, and key points for growing golfers.
This event is an exemplary representation of the caliber of activities Orlando has to offer. Match the infinite number of things to do with the tropical climate, great schools for children and young adults of all ages, and a multitude of homes in neighborhoods with extreme variety to cater to all taste levels and needs, and it is no wonder Orlando is such an amazing place for families to live.
With an estimated population of close to 250,000, Orlando is also the home base for more than 150 international companies, representing approximately 20 countries, in industries including software design, aviation, aerospace, digital media and agricultural technology, providing jobs to many.
Real estate in the Central Florida has been recovering from the economic downturn as families continue to set their sites on the area in search of a new house. For any family looking for a place to call home, Orlando represents the ideal and more.
Distinct Estates sells Orlando homes as well as other highly-desirable areas all over Florida, such as Tampa and St. Petersburg. Distinct Estates represents both buyers and sellers who are in search of their Florida dream home. The reputable Florida real estate agency is composed of highly experienced realtors who have received many accolades for their level of professionalism and results.