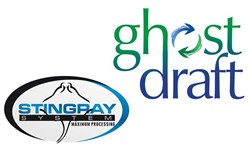 We can now empower our clients to easily create and modify forms and other documents without the need for any technical expertise.
Toronto, Canada (PRWEB) November 15, 2013
GhostDraft, an innovator in document automation and customer communications, today announced that Maximum Processing, a leading provider of property and casualty insurance policy administration software, has selected GhostDraft to provide users of The Stingray System with the ability to create forms, claim documents, bills and other customer communications. GhostDraft software will enable Stingray customers to manage their forms and document libraries more effectively and bring new products to market faster.
Responding to a growing demand from clients to allow business users to control their forms and documents, in order to reduce the time required to launch a new product or line of business, Maximum Processing is extending The Stingray System, its flexible policy administration platform, with GhostDraft's enterprise document composition and management capabilities. The integrated solution is fully supported by Maximum Processing, and will improve the ability of Stingray users to create their own declaration pages, schedules, letters and other related documents.
Maximum Processing customers will be able to continue using all of the forms they have created in The Stingray System and migrate these documents to GhostDraft over time, while taking advantage of the flexibility of GhostDraft for all new documents they create, ensuring a seamless transition to the new capabilities.
"Carriers and MGAs are under great competitive pressure to introduce new and innovative products, and cut the time it takes to bring them to market. Stingray enables carriers and MGAs to adapt quickly to new market opportunities, and GhostDraft is excited to provide business-driven document creation that improves the ability of Stingray customers to create and manage all of their forms and documents in-house," said Michael Sauber, Vice President of Marketing for GhostDraft.
In its search for flexible user-driven document creation, Maximum Processing sought a partner that shared its approach to technology and the market. In GhostDraft it found a company dedicated to providing carriers of all sizes with a web-based, enterprise-class solution at an affordable price. It also found a partner that shared the company's goal of empowering business users to make complete use of technology without the need for deep technical knowledge or skills.
"With GhostDraft, we can now create in-house everything we need to bring a new product to market, and do it all from inside our Stingray system," said Paul Heacock, Chief Information Officer at MutualAid eXchange.
"The integration of GhostDraft with Stingray allows us to continue improving the business user experience and provide our clients with even greater and simpler control over their documents. With GhostDraft, we can now empower our clients to easily create and modify forms and other documents without the need for any technical expertise," said Sean Pitcher, President and CEO of Maximum Processing.
About GhostDraft
GhostDraft provides enterprise-class cloud-based document creation and management for insurance, financial services and the legal profession. With over 30 years of experience in complex regulated documents, and deep domain expertise in these industries, GhostDraft helps companies deliver customer communications without compromise, combining affordability, compliance, and a personalized customer experience.
About Maximum Processing
Maximum Processing offers Stingray, a modular browser-based, property and casualty solution for policy (quoting, rating, issuance), billing, claims and reinsurance administration along with statistical bureau, DMV, imaging, credit card, general ledger, comparative raters, CLUE reporting and many other third party interfaces. Maximum Processing is a privately held company headquartered in Bradenton, Florida with offices in Raleigh, North Carolina.