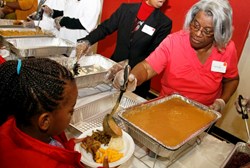 We are proud to provide food and fellowship for our friends and neighbors in need through the Y's annual Thanksgiving Dinner
(PRWEB) November 14, 2013
As part of the Y's commitment to giving back and providing support to its neighbors, the University City YMCA will host its annual Thanksgiving Dinner and Food Drive on November 21. The event was created to provide a hot meal and fellowship to those who may not have families, homes or food of their own. Families and individuals from low income neighborhoods, nursing homes and homeless shelters are invited to attend the event.
During the weeks leading up to the event, the Y works with community partners to collect food donations, which will be given to Thanksgiving Dinner guests as they leave the event.
Attendance for the event continues to increase significantly each year. Last year, the University City YMCA hosted over 650 guests. To help serve the individuals and families in need, the Y diligently recruits the help of its community partners.
As a leading nonprofit serving Charlotte for 139 years, the Y is renowned for its outreach initiatives that help ensure access and inclusion so that everyone has a chance to succeed and belong. "We are proud to provide food and fellowship for our friends and neighbors in need through the Y's annual Thanksgiving Dinner," says Jenny Griffes, Performing Arts Coordinator at the University City YMCA. "We are extremely grateful for the support of our community partners who helped make this event possible." The event is being sponsored by Food Lion and TIAA Cref.
The event will begin at 6:30 PM. To RSVP to attend the dinner, please call 704-716-6720 or email rsvp@ymcacharlotte.org. If you would like to donate food, please contact Outreach Development Director, Natia Walker at (704) 716-6761 or via email natia.walker@ymcacharlotte.org. Food drive items and grocery gift cards will be accepted through Wednesday, Nov. 20. The University City YMCA is located at 8100 Old Mallard Creek Road in Charlotte.
About the YMCA of Greater Charlotte
The Y is one of the nation's leading nonprofits strengthening communities through youth development, healthy living and social responsibility. The YMCA of Greater Charlotte, comprised of 19 Y branches and two resident camps, engages approximately 292,000 men, women and children – regardless of age, income or background – to nurture the potential of children and teens, improve the nation's health and well-being, and provide opportunities to give back and support neighbors. Deeply rooted in the community for 139 years, the YMCA of Greater Charlotte has the long-standing relationships and physical presence not just to promise, but to deliver, lasting personal and social change. ymcacharlotte.org.