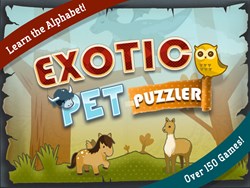 Kids can learn the alphabet with exotic pets such as axolotl, vicugna and zonkey!
Las Vegas, NV (PRWEB) November 14, 2013
A is for Axolotl? Little Five Games latest educational app release is called Exotic Pet Puzzler where unusually extraordinary kids can learn the alphabet with unusually extraordinary animals! This educational app is designed to teach kids the English alphabet and have lots of fun doing it. Over 150 types of gameplay. It has has 26 sets of 4 activities such as letter tracing, connect the dots, word puzzles and picture puzzles with beautifully illustrated animals and montessori style child development in mind. It emphasizes pronunciation with phonics, repetition and motivation by playing. It is recommended that parents learn cooperatively through the four different types of games then let them explore on their own. Some of their curious animals include camel, elasmosaurus, dragon, tapir, and vicugna.
Game Features:

Universal – Works with both iPhone and iPad.
Letter Tracing – Letter tracing with 3 different games.
Connect The Dots – Connect the dots with upper and lower case letters in sequence.
Word Puzzles – Combined with spelling, each letter is playfully pronounced.
Animal Puzzles – Piece together exotic animals from axolotl to zonkey.
Parental Lock - Settings are hidden away past a locked screen.
Adjustable Difficulty – Turn puzzle rotation on or off in settings.
Try Before You Buy – If you enjoy the game then buy to unlock all puzzles.
Pricing and Availability:

Recommended for kids age 3 and up.
Suited to preschool, K12, home schooling and public schools.
Immediately available through the App Store under kids games and education.
Coming soon to Amazon App Store, Barnes and Noble Nook, Google Play and more!
Appstore Trial: https://itunes.apple.com/us/app/exotic-pet-puzzler/id717805944
Appstore Complete: https://itunes.apple.com/us/app/exotic-pet-puzzler-complete/id725273987
Video: http://www.youtube.com/watch?v=v130VzGRgrU
Little Five Games is dedicated to creating fun and educational apps and games for children. Their previous releases include Wood Puzzler, where kids can learn the alphabet with wooden puzzles, and Color Chameleon where kids can learn about mixing colors to produce other colors.
Wood Puzzler: http://itunes.apple.com/us/app/wood-puzzler/id523032960
Color Chameleon: https://itunes.apple.com/us/app/color-chameleon/id552782228