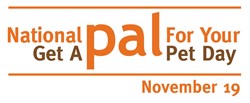 (Greenwich, CT) (PRWEB) November 13, 2013
Celebrate multiple pet ownership and consider welcoming additional pets into the home during PAL's "National Get A Pal For Your Pet Day," Tuesday, November 19. According to APPA's 2013/2014 National Pet Owners Survey, multiple pet ownership is at an all-time high with 44 percent of pet-owning households in the U.S. owning more than one pet (up from 42 percent of households in 2010). This day is set to encourage pet owners to consider adding additional furry, feathered or finned pals to the family
"This designated day is a great opportunity to help spread the message that, like humans, pets also need pals and companionship when owners are away from home," said Bob Vetere, APPA President & CEO. "Pets Add Life is all about promoting responsible pet ownership and we truly encourage current owners to consider welcoming additional pets of all types into the home."
Considering adding an additional pal to the family? Below are a few benefits and tips to keep in mind:

Social interaction: Having at least two pets of the same type allows for more social interaction and will help keep them happier and healthier. For example, guinea pigs live happier in pairs, cats socialize by grooming each other, and dogs are natural pack animals that thrive among other dogs.
Improved health and exercise: Not only is it entertaining to watch, but pets racing around together or even playing Tug-O-War helps them stay in better shape and encourages exercise that they might not receive without a pal.
Companionship: When owners are away from home that makes for long, lonely days for single pets. Adding a new pet to the home not only provides humans additional companionship, but pets are much happier when they also have a pal to spend their days with.
Choose the best pet for your lifestyle: Adding an additional pet to the home is a big responsibility and its important to consider which type of pet suits your home, lifestyle and family best. Check out the following to help determine which pet is right for you: http://www.healthypet.com/FindAPet/FindRightPet.aspx
Founded by APPA, the non-profit PAL campaign spreads the joys and benefits of responsible pet ownership and encourages increased animal adoption.
For more information visit PetsAddLife.org, facebook.com/petsaddlife or contact Brooke Gersich at 775-322-4022 or Brooke(at)theimpetusagency(dot)com.
-###-
The American Pet Products Association (APPA) is the leading not-for-profit trade association serving the interests of the pet products industry since 1958. APPA membership includes more than 1,000 pet product manufacturers, their representatives, importers and livestock suppliers representing both large corporations and growing business enterprises. APPA's mission is to promote, develop and advance pet ownership and the pet product industry and to provide the services necessary to help its members prosper. Visit http://www.americanpetproducts.org for more information.