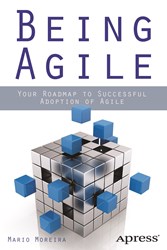 New York, NY (PRWEB) November 19, 2013
Engineering methodologies have been around for a long time, and for the most part, have been unpopular, and unsuccessful amongst engineers. In "Being Agile," Apress Media's new release, veteran Agile guru, Mario Moreira, aims to revolutionize the corporate world into a pro-Agile environment. Moreira points out that only a minority of companies understand and practice Agile, and hopes to convert as many Fragile users (half-baked Agile users) as possible by offering pointers, principles, and practices.
This book is not only for Agile professionals, but is also for project managers, and middle, senior, and executive management in software engineering and development divisions. Many companies that pose as using Agile values, identified as "ScrumButs," are in need of a new business platform. In this book, business leaders will learn how to evaluate team candidates for traits, skills, behavior, and attitudes diagnostic of an Agile mindset, set up Agile planning tools and framework, and map stakeholder engagement.
For more information on, "Being Agile," please visit: http://www.apress.com/9781430259923.

ISBN 978-1-4302-5839-1
268 pages
User Level: Intermediate to Advanced
Publication Date: October 9, 2013
Available eBook Formats : EPUB, MOBI, PDF
Print Book Price : $39.99
eBook Price: $27.99
About the Author
Mario E. Moreira is a writer for Agile Journal and a columnist for CM Crossroads Journal. He has worked in the Configuration Management field since 1986 and in the Agile field since 1998, serving successively as Vice President of Architecture and Methods at Fidelity Investments and Senior Director for Agile and CM at CA Technologies. He is a certified ScrumMaster through Ken Schwaber (co-founder of Scrum) and a certified Scrum Professional.
About Apress Media
With more than 1,500 books in print and e-formats, Apress is the authoritative source for IT professionals, software developers, and business leaders all over the world. Apress provides high-quality, no-fluff content that helps serious technology professionals build a comprehensive pathway to career success. Since 2007, Apress has been part of Springer Science+Business Media, one of the world's leading scientific, technical, and medical publishing houses, enabling global distribution of Apress publications. For more information, please visit http://www.apress.com.