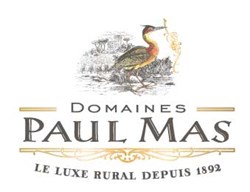 Pezenas, France (PRWEB) November 14, 2013
High-quality, affordable French wines with a sense of place… and distribution throughout the U.S. and 60 other countries. That was the vision fourth-generation winegrower Jean-Claude Mas brought to his family's modest Languedoc estate 13 years ago when he took over from his father and began implementing a plan to produce premium wine from not just his vineyard, but also the entire viticultural region in which he grew up.
Recently, Mas's efforts were recognized by an esteemed panel of judges at the 5th Annual Sommelier Challenge competition, which granted single-vineyard label Chateau Paul Mas the coveted "Director's Award, Winery of the Year." The panel---which included Master Sommelier Bob Bath, wine writer David Furer, and Culinary Institute of America Wine Director Tracy Dutton, amongst others---also awarded three platinum, three gold, and several silver medals to wines from Arrogant Frog and Paul Mas Estate, two additional brands from the Domaines Paul Mas family of wines. Consequently, Paul Mas wines will be featured at the San Diego Food & Wine Festival "reserve" and Grand Tastings on November 22 and 23.
Sommelier Challenge Director Robert Whitley calls the wines, "beautifully balanced, suave and sophisticated, and most of all delicious," noting a renaissance of the Languedoc wine industry lead by "visionary enterprises" such as Domaines Paul Mas. Whitley dubbed Mas an "entrepreneur with a vision of quality" who has helped to "rescue the Languedoc from the wine wilderness," noting Mas's wines "are not only exceptional by anyone's standard, they're also attractively priced."
Domaines Paul Mas produces and distributes wine under several labels in the U.S.; see http://www.paulmas.com/everydayluxury/ for details. Find Paul Mas wines nationwide at BevMo, Whole Foods and other fine wine retailers.
Platinum Winners:
2011 Chateau Paul Mas Clos de Savignac, Gres de Montpellier, Coteaux Du Languedoc AOP, France $27
2012 Chateau Paul Mas Belluguette, Coteaux du Languedoc AOP, France $20
2011 Paul Mas Estate Carignan Vielles Vignes, Pays d'Herault IGP, Savignac Vineyard, France $14
Gold Winners:
2012 Arrogant Frog Lily Pad Red, Pezenas, France $9.99
2012 Arrogant Frog Savvy Sauvignon Blanc, Pezenas, France $9.99
NV Cote Mas Rosé Cremant de Limoux AOP, France $17.50
About Domaines Paul Mas:
Fourth-generation vintner Jean-Claude Mas has blazed the trail for premium winemaking in the Languedoc region. Since taking the helm of the Mas family's centuries-old estate in 2000, his driving mission has been to use only premium quality grapes to craft superior wines with a modern, New World flair. Beginning with the original 86-acre estate, he has since grown the winery to a 1000-acre enterprise with a commitment to sustainable viticulture; he also contracts with 80 growers that collectively farm nearly 2000 acres, making Domaines Paul Mas one of the Languedoc's most influential wineries. Above all, Jean-Claude strives to make wines with authenticity and refinement, the end result of which is a family of magnificently charming wines that burst with personality and express their unique terroir.
For more information, contact Anne Alderete of McCue Marketing Communications at anne(at)mccuecommunications(dot)com.