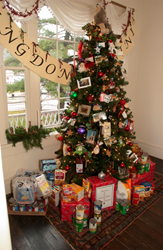 Abingdon, VA (PRWEB) November 14, 2013
The third annual "O' Christmas Tree!" community event is at the Fields-Penn 1860 Museum at 208 W. Main Street, Abingdon. Opening on November 30th and running through January 4th, or "Old Christmas," local organizations are again decorating their trees as a way to raise food donations for needy people and animals. Nearly one thousand people attended the premiere event last season and over 6,000 food items were collected for Faith in Action's Stone Soup and Animal Defense League.
The organizations participating in 2013 are Animal Defense League, William King Museum, Arts Depot, Advance Abingdon, Highlands Community Services, United Way, Holston Mountain Artisans and the Daughters of the American Revolution.
The museum is free of charge, and the trees are free to see, as well. To vote for a favorite tree, however, one may place non-perishable food at its base, each item worth set points. At the end of the event, these points are tallied for donations, and the winning tree is named.
Preferred contributions for this year are peanut butter and canned fruit for Faith in Action. Canned vegetables and tuna fish are good, too. Animal Defense League requests higher grade pet food, both dry kibble, such as Purina, and canned wet. Large 16 lb. bags of Purina and 16 oz. jars of peanut butter are worth 10 points. Canned fruit, tuna, or chicken are worth 5 points; canned vegetables, 2 pts.; and all other goods are a point each.
The Fields-Penn will be open Monday and Wednesday from 1pm-5:30pm, Tuesday from 10am-7pm, Thursday-Saturday from 10am-7pm and Sunday from 1pm-5pm through 4th January, closed on Christmas and New Year's Day. For more information, please call 276-676-0216 or check out the Fields-Penn House 1860 Museum facebook page, https://www.facebook.com/fieldspennhouse.