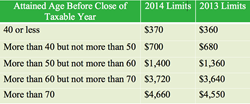 Atlanta, Georgia (PRWEB) November 15, 2013
In an effort to encourage personal responsibility and reduce the financial burden on Medicaid, state and federal governments have made certain long term care premiums tax deductible. LTC Tree reports an evaluation of the new IRS deductible levels for long term care insurance policies purchased in 2014.
On individual tax returns, eligible premiums can be categorized as medical expenses. Depending on income status, age, and policy, the amount saved will vary by consumer. For those in retirement, the tax deductions can be quite substantial. The limits have increased slightly from last year and are listed in the table. The full details can also be found in the Internal Revenue Service Revenue Procedure 2013 – 35 (2014 Limits).
For policyholders between 40 and 50, the limitation increased to $700. For those between 50 and 60, the limitation rose to $1,400. For those between 60 and 70, the limitation increased to $3,720. Policyholders older than 70 now face a deductible limitation of $4,660.
The 2014 limits increased an average of $52 compared to the 2013 limits. Old age and retirement lend the ability to save a significant amount more than would be possible in younger years. Understanding the various tax reduction methods like itemizing deductions can help save money over time. Even if the deductibles don't currently allow for sufficient savings, being familiar with the deductible standards will help ease the process in the future, when chances of a large deduction are much higher.
The per-diem limitation for periodic payments received under a qualified long term care insurance contract has also risen to $330, up from $320 for the year 2013.
LTC Tree's analytics division set out to match premiums on current-day long term care policies to the new 2014 deductibility limits and determine if the limits set forth by the IRS regulations are enough. For the study, two types of policies were considered at levels that paid benefits of $219,000 over the lifetime of the policy, and included a 3% automatic inflation increase. It was determined that the limits, if applicable, are able to provide tax deductibility for about 75% of expenses for couples in their late 50s and 100% for couples in their early 60s.
Tax deductibility status for this type of insurance provides consumers with an incentive to purchase the product as a way to protect their personal assets. As state and federal governments seek to shift the majority of long term care costs off of the public welfare system, these deductibles allow consumers to plan ahead for their future long term care needs without shouldering the entire out-of-pocket cost.
LTC Tree is an Atlanta-based nationwide network of licensed agents whose goal is to help educate people about their long term care insurance options with no face-to-face sales meetings. We help clients shop all the major companies to find the best plan at the best price and strive to give consumers a laid back, no pressure process of buying insurance.