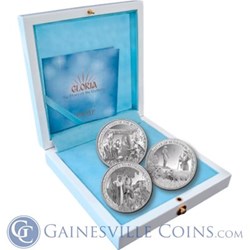 The "Gloria" proof silver coin set represents a new level of sophistication in bullion minting
Lutz, FL (PRWEB) November 15, 2013
Gainesville Coins has signed an agreement with PAMP Suisse to be among the first U.S. distributors of the new "Gloria" Proof Silver Three-Coin Nativity Set from the famed Swiss precious metals refiner.
These coins are struck using an innovative interaction of frosted and mirrored finishes combined with low- and high-relief features, giving an exquisitely detailed three-dimensional depth. More works of art than currency, the three 1 troy oz .999 fine silver coins portray three important events of the Birth of Christ: The Journey to Bethlehem, The Star of Bethlehem, and The Adoration of the Magi.
In The Journey to Bethlehem, Joseph leads the way down a tree-lined path, with Mary riding a donkey. Echoing the concept of the Lamb of God, three sheep observe their passage. The Star of Bethlehem coin portrays a scene in the hills near the town as a shepherd, and his young helper gaze at the heavenly beacon over the birthplace of Jesus. The Adoration of the Magi presents Mary, bathed in divine light and cradling the Christ Child in the ramshackle shelter of the stable. The Three Kings offer their gifts of gold, frankincense and myrrh. Around the border of each 40mm silver coin is the title of the scene portrayed on reverse.
These beautiful coins are housed in an elegant presentation case of white and blue, with an illustrative booklet that includes the certificate of authenticity. Brett Frierson, Gainesville Coins COO, remarked: "The "Gloria" proof silver coin set represents a new level of sophistication in bullion minting."
Limited to a worldwide mintage of 4,000 sets, these beautiful coins will doubtlessly become a treasured Christmas heirloom. They are available to pre-order now at Gainesville Coins.
About PAMP Suisse: Since 1977, PAMP Suisse has been a leading brand in bullion. The first precious metals fabricator to decorate the reverse of small bars, their "Lady Fortuna" is the most famous image on gold and silver bars. They were also the first to seal small bars in an airtight package that includes the bar's assay certificate.
About Gainesville Coins: Gainesville Coins is one of the largest and most-respected precious metals distributors in the world. Their continuing relationship with PAMP Suisse reinforces their commitment to offering a wide selection of bullion, precious metals coins, and certified coins to its global client base.