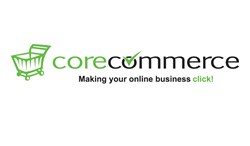 Our new responsive design themes will bring a consistent web design across all devices, from smartphone to tablet and beyond. This will improve user experience, positively impacting our CoreCommerce merchants.
Franklin, TN (PRWEB) November 19, 2013
CoreCommerce, the leading e-commerce shopping cart, announced details on their latest software release for 2013. This release includes the introduction of new responsive design themes, PayPal's Bill Me Later® feature, abandoned cart recovery integration with AbandonAid and other software improvements. "Our team has been especially excited about the impactful features we're introducing to our customers in this release. We feel that responsive designs and abandoned cart recovery will be game changers for our customer base," said COO Vance Lawson.
The highlight of the software release is the addition of responsive design themes. Traditionally, websites are created with a fixed width in mind and were not built with mobile devices in mind. These new responsive design themes are fluid and will adjust to any width, perfect for viewing on mobile devices. "Our new responsive design themes will bring a consistent web design across all devices, from smartphone to tablet and beyond. This will improve user experience, positively impacting our CoreCommerce merchants by reaching the maximum number of customers, no matter what device they're using," said Matt DeLong, CoreCommerce CEO. Currently, CoreCommerce is one of the first e-commerce platforms to offer free responsive design themes.
The addition of responsive designs is a key part of CoreCommerce's goal to continue offering the best value on the market for e-commerce entrepreneurs. As one of the first e-commerce solutions to offer free responsive design templates, CoreCommerce aims to remain at the forefront of the e-commerce industry as it grows increasingly mobile. The consistent design and overall look and feel that responsive design offers will create a more robust user experience, boosting sales and consumer confidence for e-commerce merchants. CoreCommerce is launching the responsive design campaign with two modern design themes in this release, with a long line of new design themes to follow in the coming months.
PayPal's Bill Me Later® feature allows merchants to be paid up front for orders while giving customers the option to have more time to pay. This feature is of no risk to merchants, as PayPal basically finances the Bill Me Later® option. Many merchants that have incorporated PayPal's Bill Me Later® feature into their online store have reported an 18% increase in sales after making this option available to customers. Bill Me Later® is a great addition to any online store, as it streamlines the checkout process, is optimized for mobile shoppers and requires no additional cost or integration work.
Another highlight of this release is an integration with abandoned shopping cart solution, AbandonAid. As one of the fastest growing abandoned cart solutions on the market, AbandonAid offers a variety of features to recover abandoned shopping carts, such as the ability to customize and send optimized cart recovery e-mails to abandoned shoppers in real-time. E-commerce businesses can recover the first $500 in revenue free with AbandonAid at no obligation, then purchase pay-as-you-go credits to continue. "We're delighted to integrate so closely with CoreCommerce. AbandonAid clients have successfully recovered millions of dollars with our powerful and easy-to-use tools, and we're confident CoreCommerce customers will see a great immediate benefit from them as well," offered James Oppenheim, AbandonAid CEO.
This release also includes numerous updates to the shopping cart admin that are part of the release.
About CoreCommerce:
CoreCommerce is the leading hosted ecommerce shopping cart solution for entrepreneurs and
growing businesses. Founded in 2001, CoreCommerce provides easy to use, feature-rich solutions you need to create an engaging online store, including integration with over 100 partners that offer a variety of payment gateways, shipping and fulfillment, e-mail marketing and social media services. Respected for their Legendary Support™, Core Commerce has a knowledgeable, friendly customer service team that is devoted to helping you craft a dynamic online store. Winner of the 2013 American Business Awards' Bronze Stevie® Awards.