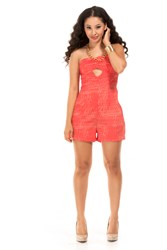 This sporty romper combines sexy chic with extreme comfort...
Los Angeles, CA (PRWEB) November 18, 2013
In the world of women's clothing rompers are very in right now, and A2M USA™, a new clothing brand "for the young & sexy," has just announced the arrival of their version: the Mirage Strapless Romper. This incredibly cute item consists of lightweight shorts and a lined strapless top all in one. It's made of sheer polyester in bright yellow, black and tangerine. It also has a keyhole cutaway in front, which shows not too much but just enough.
This sporty romper combines sexy chic with extreme comfort, and can be worn on daytime outings or with heels and jewelry for an evening out. The fabric sports a cunning ikat pattern, which is both tasteful and unique.
The A2M USA Mirage Strapless Romper is available in sizes S, M & L, and A2M offers free shipping and free exchanges.
A2M USA brings trends from the world's powerhouse fashion cities such as Paris and Milan to life in America. But that doesn't mean they import their clothing. On the contrary, all A2M USA clothing is manufactured in America, in one of their manufacturing facilities in New York, Los Angeles and San Francisco, thus ensuring American made quality.
A2M USA was founded by an African-born European entrepreneur who started an American-inspired casual fashion line in Europe which caused a sensation among European youth. His dream was to conquer America, and he relocated here in 2012. With the launch of A2MUSA.com his dream has come one step closer to reality.
The entire A2M line for men and women can be viewed on their website.