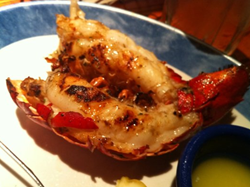 (PRWEB) November 14, 2013
The Thanksgiving and Christmas holidays are about the appreciation of family, friends and food, and this year GetMaineLobster.com is offering a wide range of seafood delivery specials great for large gatherings. Whether it's a Thanksgiving dinner alternative or a get-together with family and friends to watch a football game, the seafood delivery service's current specials on Maine lobster tail delivery packages will have everyone in the celebration mood.
At as low as $7.56 per Maine lobster tail, these Maine lobster tail delivery packages offer an incredible savings. For $169.00, a discount of $90.00, GetMaineLobster.com will deliver 15 four- to five-ounce Maine lobster tails. For larger gatherings, 30 four- to five-ounce Maine lobster tails are on special for $259.00, a $230.00 discount, and 60 four- to five-ounce Maine lobster tails will be delivered for $459.00, a savings of $434.00! Shipping is included with all packages.
In addition to these specials, GetMaineLobster.com offers a variety of Buy One, Get One Free specials on live Maine lobsters, surf and turf dinners and $50.00 gift certificates just in time for the holidays!
Browse Get Maine Lobster's wide range of seafood offerings, access other Maine lobster recipes or view current seafood specials for delivery by visiting GetMaineLobster.com or call (866) 562-4817. Stay updated and Like us on Facebook or follow us on Twitter.
About GetMaineLobster.com
GetMaineLobster.com, a division of Black Point Seafood and Black Point Gourmet, hand-selects the finest Maine lobster, seafood and beef products for convenient distribution throughout the United States. Their passion is to make fresh, quality seafood readily available to customers across the country, which is why they buy from only the most trusted, well-established suppliers to ensure that they receive the finest products available.
GetMaineLobster.com was selected out of the more than four million small American businesses served by Chase bank to represent its new Platinum Business Checking product for its 2013 national advertising campaign.