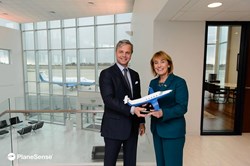 Portsmouth, N.H. (PRWEB) November 14, 2013
Governor Maggie Hassan paid a visit Friday to PlaneSense, Inc., an aircraft fractional ownership company located on the Pease International Tradeport in Portsmouth, New Hampshire. Gov. Hassan wanted to learn more about the company's contribution to the local economy, as well as how she can continue to maintain a positive environment for business in New Hampshire.
"PlaneSense has made significant contributions to the Seacoast and broader New Hampshire economy and is one of many innovative companies poised to continue growing and creating good jobs," Gov. Hassan said.
President and Chief Executive Officer George Antoniadis said PlaneSense, Inc. is the fourth-largest company providing fractional aircraft shares in the United States, and also employs the largest civilian fleet of Pilatus PC-12s in the world.
"In just 2012 we contributed close to $20 million to the New Hampshire economy," Antoniadis said. "We provide an excellent place of employment for 245 people in New Hampshire alone, and in every flight we perform throughout the United States, Canada, and The Bahamas, we project the success of a New Hampshire based business."
Gov. Hassan met in private with executives of PlaneSense Inc., and she was also given a tour of the 84,000-square-foot office and aircraft hangar facility. She was treated to a cabin tour of a recently delivered PC-12 turboprop aircraft, the 1200th PC-12 manufactured by Pilatus Aircraft Ltd. and the 49th acquired by the PlaneSense program.
Antoniadis said that the PlaneSense® program could have elected to be based in any of the fifty states, but chose Portsmouth International Tradeport because of the "positive climate for business and the strong aviation values in New Hampshire. This positive attitude is echoed and amplified by Governor Hassan."
Governor Hassan learned from PlaneSense, Inc. Vice President of Flight Operations, Ray Torres, that the company needs to recruit close to 100 pilots over the next few years. PlaneSense Inc. had been the largest recruiter and a significant academic contributor at the Daniel Webster College flight operations program; however, due to the closing of that aviation program, PlaneSense, Inc. is seeking to support a new academic center in the field of aviation in New Hampshire.
"I strongly believe in tight links between academia and industry," Antoniadis said.
Gov. Hassan shares Antoniadis' sentiment.
"In order to ensure that PlaneSense and other companies can thrive, we must continue developing a highly skilled workforce and encouraging increased collaboration between New Hampshire's higher education and business communities," Gov. Hassan said.