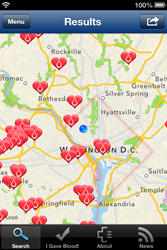 Mobile is an area of intense focus for us and we're excited to add Inova Blood Donor to our communication repertoire.
Sterling, VA (PRWEB) November 13, 2013
Local blood collection agency Inova Blood Donor Services, (IBDS) in conjunction with Tysons based startup Blood Donor Mobile, announced today that it has launched a mobile app for its blood donor community on both the Apple iTunes and Google Play app stores.
The app, named Inova Blood Donor, was developed specifically for the Inova Blood Donor Services donor community. The app strives to make it easy for new and existing blood donors to be engaged in their lifesaving voluntary donations.
The Inova Blood Donor app allows users to:

Set reminders for when they're eligible to donate again
Search for blood drives by location or date
Easily access the online portal to book and manage appointments
Share their donation experience on social media
Get in touch with Inova Blood Donor Services
Keep up to date with the latest Inova Blood Donor Services news and events
"We're always looking into new ways to use technology to help give our donors the most convenient blood donation experience possible. It seems like every blood donor at our drives has a needle in one arm and their cell phone in the opposite hand. This app is an easy way for our donor community to interact with us, and vice versa," said Terri Craddock, Director of Inova Blood Donor Services.
"As a hospital system we strive to provide our patient community with tools and information in whatever manner is most convenient for them. Mobile is an area of intense focus for us and we're excited to add Inova Blood Donor to our communication repertoire," said Rob Birgfeld, Director of Digital Marketing for Inova Health System.
One donor shared, "It makes it much easier to track my donations, remind me when I'm eligible to donate again and find a blood drive that's convenient. Honestly I'm surprised something like this didn't already exist." at the app's sneak peek event during the Nationals Blood Drive on August 17th.
"We're just very excited to be able to partner with Inova Blood Donor Services to launch this app and share it with our fellow blood donors," said Chris Yoko, Founder of Blood Donor Mobile.
IBDS will be holding a multiple site Launch Party Celebration at their Blood Donor Centers in Annandale, Centreville, and Dulles, encouraging blood donation and app installation at the event. All blood donors who complete the screening process will partake in party foods, plus receive an EXCLUSIVE APP T-SHIRT.
Donate Blood
Thursday, November 14
Donor Center Hours:
CentreMed

Dulles

10:00 a.m. to 6:00 p.m. (SPECIAL HOURS)
Woodburn

To schedule an appointment, call 1-866-BLOODSAVES or book your appointment online at inova.org/donateblood. You can learn more about the app, or download it at http://www.InovaBlood.com.
About Inova Blood Donor Services
Inova Blood Donor Services is the largest hospital-based blood-collection operation in the nation. What makes IBDS unique is their Give Local, Save Local philosophy, where serving the local community comes first. IBDS supplies lifesaving blood and blood products to 24 different hospitals in Northern Virginia and the Washington, DC, metro area. In the event of a national or regional emergency, IBDS partners with other organizations to distribute lifesaving blood and blood products to the areas that need it most.
About Inova Health System
Inova is a not-for-profit health care system located in the Washington, D.C. metropolitan area, serving over two million people with over 1,700 licensed beds based in Northern Virginia. Inova consists of five hospitals including the area's only Level 1 Trauma Center and Level 4 Neonatal Intensive Care unit. Inova encompasses many health services including the nationally and internationally recognized Inova Heart and Vascular Institute (IHVI), Inova Translational Medicine Institute (ITMI) on genomics, Inova Neuroscience Institute and Inova Children's Hospital. Inova's mission is to improve the health of the diverse community it serves through excellence in patient care, education and research. More information and statistics about Inova is at http://www.inova.org.
About Blood Donor Mobile
Blood Donor Mobile helps blood collection agencies connect with their donors to increase blood donation frequency by providing these blood banks with their own custom mobile app for Android and iOS. For more information visit http://www.blooddonormobile.com.