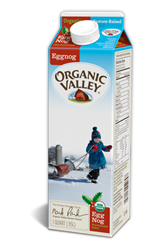 National Eggnog day is celebrated every year on December 24, at the peak of eggnog-drinking season.
La Farge, WI (PRWEB) November 14, 2013
Organic Valley, the nation's largest cooperative of organic farmers and a leading organic brand, today announced plans to celebrate National Eggnog Day on December 24, 2013. Organic Valley Eggnog is widely recognized as a household favorite around the holidays and a key ingredient in festive recipes.
National Eggnog day is celebrated every year on December 24, at the peak of eggnog-drinking season. The origins of National Eggnog Day are somewhat mysterious, but the drink has been a traditional part of holiday festivities in America since the 18th century.
Organic Valley eggnog is made from fresh organic milk, cream and eggs from our family farms, which are committed to the highest organic standards. Then we add organic and fair trade sugar, vanilla and nutmeg to create this delightful eggnog that's become a winter tradition.
Tasty enough to sip on its own, Organic Valley Eggnog is also enjoyable as a festive cocktail, mixed with a touch of rum, cognac, brandy or bourbon. Some other favorite serving suggestions include:

Eggnog French Toast with buttery brioche and warm real maple syrup.
Eggnog Pots de Crème with a brown butter shortbread cookie.
Frothy Eggnog Latté with cardamom whipped cream.
Delicious recipes, including holiday favorites from Organic Valley's chef-friends across the country can be found at http://www.organicvalley.coop/secret. Organic Valley collaborated with farm to table chefs from the east to west coasts, including Piper Davis of Grand Central Bakery in Seattle, Stacie Pierce of Little Bee Baking in San Francisco, Amanda Cook of Cookshop in NYC, and Phoebe Lawless of Scratch Bakery in Durham, NC. In addition to full recipes for the celebrity chef creations, the site features a sweepstakes that awards a "secret" baking-related prize each week to a lucky entrant.
Organic Valley Eggnog comes in a 32 oz. carton with a SRP of $5.19. It is seasonally available now through the beginning of January, nationwide in major grocery chains, natural food stores and food cooperatives.
Organic Valley: Independent and Farmer-Owned
Organic Valley is America's largest cooperative of organic farmers and one of the nation's leading organic brands. Organized in 1988, it represents 1,834 farmers in 35 states and three Canadian provinces, and achieved $860 million in 2012 sales. Focused on its founding mission of saving family farms through organic farming, Organic Valley produces a variety of organic foods, including organic milk, soy, cheese, butter, spreads, creams, eggs, and produce, which are sold in supermarkets, natural foods stores and food cooperatives nationwide. With its regional model, milk is produced, bottled and distributed right in the region where it is farmed to ensure fewer miles from farm to table and to support our local economies. For further information and to learn about Organic Valley's 25 years of sustainable agriculture as it celebrates its anniversary in 2013, visit http://www.organicvalley.coop. Organic Valley is also on Twitter @OrganicValley and Facebook http://www.facebook.com/OrganicValley.