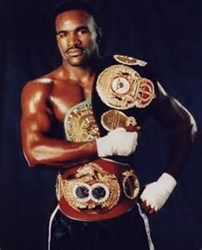 "Right behind excuses is success" Evander Holyfield
Atlanta, Georgia (PRWEB) November 15, 2013
Real Deal Evander Holyfield is the only five time boxing champion in the world. He is proud to announce his new online clothing store that can be found on http://www.evanderholyfield.com. The online clothing store features a wide range of sportswear for men, women and children. The http://www.evanderholyfield.com store is stocked with t-shirts, hoodies, infant wear, accessories and much more. Evander Holyfield credits much of his success in the boxing ring to his mother. She often told him as a child that he could not quit anything that he started because she didn't raise a quitter.
There were plenty of times that the young Evander Holyfield wanted to quit boxing because he didn't win every fight. He was also inspired by his coach at a young age who told him he could be like Muhammad Ali and Evander Holyfield believed him and later became one of the greatest boxers in the world. Known to be smaller than his opponents and able to beat boxers that were much bigger than he, Evander shared with his fans, "It's not the size of the man but the size of the heart that matters."
What makes The Real Deal Evander Holyfield's clothing line so unique is the fact that his clothing line is inspirational. Those very same quotes that helped him become the champion that he is today are the very same quotes that you will find on his apparel that is sold online at http://www.evanderholyfield.com. These quotes will serve as a reminder to all who wear them that they too can become champions in their own lives if they don't quit. Evander says that, "Quitting in life won't get you nowhere," and that is why he has decided to share these timeless quotes with his fans. Words have power and what we think of ourselves can come true; if we all think like champions we can indeed have the same success as the only five time heavyweight champion of the world, Evander Holyfield.
Evander Holyfield wants you and your family to get motivated by wearing his inspirational clothing. You will be sure to leave those excuses behind as you slip into his one of a kind t-shirts, hoodies and warm-ups.