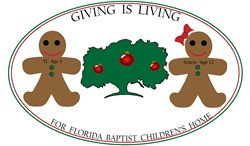 Giving is always rewarding, especially to children who are in need... Knowing that our thoughtfulness might make a difference in the lives of those around us is very special.
Jacksonville, Florida (PRWEB) November 14, 2013
Foundation Financial Group has announced its Giving is Living campaign, which supports less fortunate children during the holiday season. Through the regional philanthropic project, FFG employees will give gift bags to the boys and girls living at Florida Baptist Children's Home.
"Giving is always rewarding, especially to children who are in need," said Erin Lewis, Foundation Financial event coordinator. "In past years, FFG has given holiday gifts to children in foreign countries, but we wanted to direct this year's holiday cheer to children right here in our community. Knowing that our thoughtfulness might make a difference in the lives of those around us is very special."
Foundation Financial's Giving is Living campaign will combine the efforts of employees from FFG's Jacksonville Regional Sales Center, located at 225 Water Street #2100, and FFG's Executive Headquarters, located at 76 South Laura Street # 1400. Each participating employee or team will pick a current resident from the local Florida Baptist Children's Home and fill a gift bag with age-appropriate items. FFG employees will personalize each bag with the child's name and holiday decorations. The gift bags will be delivered to Florida Baptist Children's Home on December 13.
"FFG wants to give these children presents that they might not receive otherwise," continued Lewis. "Most of us never had to go without as a child; I've always had a family who loved and supported me, and not everyone has that. Our hope is that the children will feel special when they receive their gift bag."
The children at Jacksonville's Florida Baptist Children's Home range from age 3 to age 17. There are currently 22 children in the home, but that number can fluctuate. Because the maximum occupancy for the Jacksonville campus is 32 children, FFG intends to fill an extra 10 gender-neutral gift bags to ensure that no children are left out.
"Foundation Financial has an opportunity to help these children experience a joyful holiday season," said Lewis. "FFG is like one big family, especially when it comes to supporting the people in our community. Everyone gets excited to come together and do some good."
The Florida Baptist Children's Homes is a faith-based, nonprofit organization dedicated to providing for the physical, emotional, social, and spiritual needs of Florida's children in need. The Children's Homes has been serving abused, neglected, and orphaned children since 1904. Children are selected without discrimination, based on the extent of their need and the FBCH's ability to help.
About Foundation Financial Group
Foundation Financial Group is a multibillion dollar financial services corporation. FFG offers its customers Best in Class service through its Insurance, Retirement, and Mortgage Services. Named one of the fastest growing financial companies in the country by Inc. Magazine for the third year running, FFG has continued to grow its nationwide presence with over 100,000 new customers per year in 39 states. In addition to the value that Foundation Financial provides every customer, it is also dedicated to its communities and the people who live in them. Through a vast array of philanthropic endeavors, the company not only provides significant monetary donations but also fosters a workforce environment that encourages all team members to personally make a difference. Foundation Financial is committed to its strong focus on customer service and community investment as it continues to grow and compete with the largest financial institutions in the world.
Foundation Financial Group reviews all public relations inquiries. For additional information, interview and image requests, contact the Foundation Financial Group Public Relations Team.