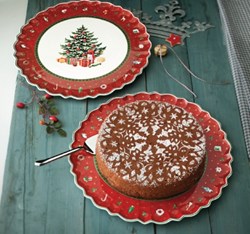 Villeroy & Boch knows that holiday entertaining is all about making memories with loved ones.
New York (PRWEB) November 14, 2013
This week, Villeroy & Boch launches the "Holidays to Remember" Sweepstakes. One winner will receive $500 to spend at Villeroy & Boch.
Entrants will be inspired by the many ways that they can celebrate the season with Villeroy & Boch. Villeroy & Boch knows that holiday entertaining is all about making memories with loved ones and is honored to offer pieces that have become treasured heirlooms for families to cherish for generations.
From the fancy dinnerware used for Christmas dinner to the Champagne flutes used to toast to a happy and healthy New Year, treasured heirloom pieces can instinctively remind us of holidays with family. Whether you are adding new pieces to a treasured collection of Christmas dinnerware or looking to create new traditions, Villeroy & Boch offers entertaining inspiration.
From November 14, 2013 through November 21, 2013, fans can enter the sweepstakes by visiting http://www.facebook.com/VilleroyandBoch, where they'll be asked how they would like to make #HolidayHeirloom memories with Villeroy & Boch.
Fans can select and share their favorite holiday entertaining ideas, choosing between traditional and modern Christmas tablescapes, crystal stemware, holiday décor items and more.
Villeroy & Boch brings everyday luxury to your home décor and holiday table settings, having great pride in its extensive range of premium serving pieces, teapots, baking and kitchen storage supplies, kitchen accessories, ornaments and other festive seasonal items. For more information on the entire Villeroy & Boch product line, please visit: http://www.villeroy-boch.com/shop/.
***
About Villeroy & Boch
Villeroy & Boch was founded in Germany in 1748 and is one of the world's largest producers of premium porcelain, crafting everything from high-quality dishware to world-renowned sinks, baths and toilets. Hand-blown, quality glassware was added in 1843 to complement the growing diversity of dishware lines. Since its origins over 265 years ago, the ceramics manufacturing company is known for its elegant international lifestyle brand and is represented in 125 countries around the world. The North American headquarters are located in the NY metro area of Monroe Township, N.J.