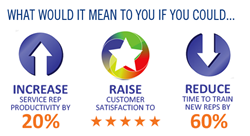 This could provide an 'ah ha' moment that would ultimately transform your call center. - Stephen Pappas, Panviva
Burlington, MA (PRWEB) November 14, 2013
Panviva, Inc. today announced that it will sponsor a live webinar on November 20th, at 1PM EST on the subject of Call Center Breakthroughs. The event will be hosted by Stephen Pappas, SVP of Panviva, Inc., introducing Chris Lawson, Director of Strategic Partnerships at Lawson Concepts, as guest speaker.
Today's call centers struggle with information complexity that leads to agent productivity issues, declining key metrics – including customer satisfaction – and rising costs. Many call centers have tried band aid approaches to fix this, but find that doing things the same old way no longer works. In this session Chris Lawson will talk about a different approach to managing information and agents. This approach has been shown to:

Increase agent productivity by 20 percent
Raise customer satisfaction to 5 star levels
Reduce time to train agents by 60%, all while cutting operational costs
.
This one hour presentation and Q&A session will cover the keys to a successful transformation:
Root causes. Where did it all go wrong?
How are your agents doing? How are your customers doing? Why?
How to tell if you have an "information landfill"?
How a completely new approach works and its role in transforming call centers
This event includes information and strategies that will help you move forward immediately.
The Call Center Breakthroughs webinar is offered as a complimentary service from Panviva. All attendees will receive a copy of the recently published book, "The Truth about Call Center Delivery Systems". This book includes comparative information for a range of delivery systems and formulas to assist call center management in estimating the true cost of training.
About Chris Lawson
Lawson is the Director of Strategic Partnerships at his firm, Lawson Concepts. He has spent more than 20 years championing customer service solutions for Fortune 500 companies and is a speaker on the subject of service excellence at noted industry conferences. For more information about Lawson Concepts, visit http://www.lawsonconcepts.com.
About Stephen Pappas
Pappas manages North American operations at Panviva for Call Center Performance consulting. He has more than 20 years' experience helping companies around the globe improve customer service and call center performance while lowering costs and risk.
About Panviva
Panviva is the developer of SupportPoint, the world's leading Business Process Guidance system. Among Panviva's customers are BUPA, Blue Cross, BT, Colt, Foxtel, EXL Services, Medibank Private, Stellar BPO, National Australia Bank, ANZ Bank, Westpac, Health New England, AvMed and St. Mary's Health plans. Visit us at http://www.panviva.com.